Vitamin C is a super nutrient. Not only does it build a strong foundation for health by supporting blood vessels, muscles, an
Most people know that vitamin C infusions can help fight off a cold. But that's hardly the only vitamin C IV benefit. Vitamin C is an important part of many bodily processes. It helps your body form blood vessels, cartilage, and collagen. It also helps your body absorb and store iron. And it can even support your immune system and fight off free radicals to keep you healthy.
If you don't have enough vitamin C in your system, you simply can't be your healthiest self. And if that's the case, you need a vitamin C infusion right away.
Here at Mobile IV Nurses, we offer vitamin C IV treatments that can replenish your body so you can feel your best!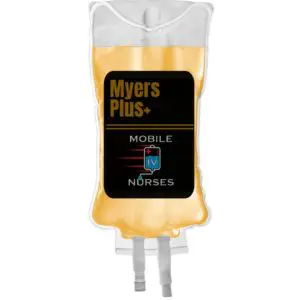 Our Highest-Dose
Vitamin C IV
You have two choices for an IV with the highest amount of vitamin C. Both our Ultimate Myers' Cocktail and The Premium have 5,000 mg of vitamin C. Contact us and see how vitamin C can enhance your health and wellness.
Vitamin C IV Benefits
When you get a vitamin C treatment, your body receives this essential nutrient directly through the bloodstream— without passing through your digestive system first. This means that your body can absorb up to 90% of the vitamin (versus roughly 50% with an oral supplement), giving your body even more of the benefits of a vitamin C IV infusion.
What exactly are some of the vitamin C IV therapy benefits? They include:
Support for your immune system
Improved wound healing (vitamin C helps create collagen, which helps wounds heal)
Better iron absorption (important for vegetarians and vegans)
Neutralized free radicals (promotes better overall health)
Younger-looking skin (due to improved collagen production)
Vitamin C infusions might even help cancer patients. There is some evidence to suggest that vitamin C IV therapy benefits people going through chemotherapy or radiation by making their treatment more effective or reducing the side effects. While it's important to note that vitamin C is NOT an alternative to cancer treatment, it might be a helpful addition to your treatment plan, but please talk to your doctor first.
What's in Our Vitamin C Infusion?
Mobile IV Nurses offers vitamin C IV therapy as part of several pricing packages. You can receive vitamin C in our Myers' Cocktail, which also contains several other essential nutrients like vitamin B12, vitamin B complex, glutathione, magnesium, and zinc.
Or, if you simply want to increase your levels of vitamin C, you can add it to any treatment for an extra $25. Put extra vitamin C in your Myers' Cocktail, or mix it with pure saline and other add-ins for a customized treatment that meets your needs. Our professional nurses can help you find the combination that will get you the greatest benefit from your vitamin C IV.
Who is Our Vitamin C IV Meant For?
Anyone who wants to feel healthier can benefit from vitamin C IV therapy. However, individuals with a vitamin C deficiency will certainly see more results from this treatment than others.
How do you know if you're low on vitamin C? Some common risk factors include:
People who abuse alcohol
Heavy smokers
People with eating habits (not getting enough fruits and vegetables)
People with type 1 diabetes
People undergoing cancer treatments
People with gastrointestinal disorders
If you have any of these risk factors, call Mobile IV Nurses and get your infusion today.
Schedule In-Home Vitamin C Therapy
Mobile IV Nurses has teams all over the areas we serve, so we can get a registered nurse to your door right away. Book an appointment today and start improving your health in a big way!