There's a lot to enjoy in Fort Lauderdale. The beaches, boats, bars, and boutiques are all worth exploring for locals and visitors alike. But you need to stay on top of your health if you want to get the most out of Fort Lauderdale. If you're sick, need more energy, or simply had too much fun on the water or out at night, try IV therapy with Mobile IV Nurses. 
IV treatment rehydrates the body with nutrient-rich fluids. Because IVs are infused into the bloodstream, they're absorbed quickly for fast, noticeable results. Mobile IV Nurses makes it easy to get IV therapy in Fort Lauderdale. Contact us today to book an appointment.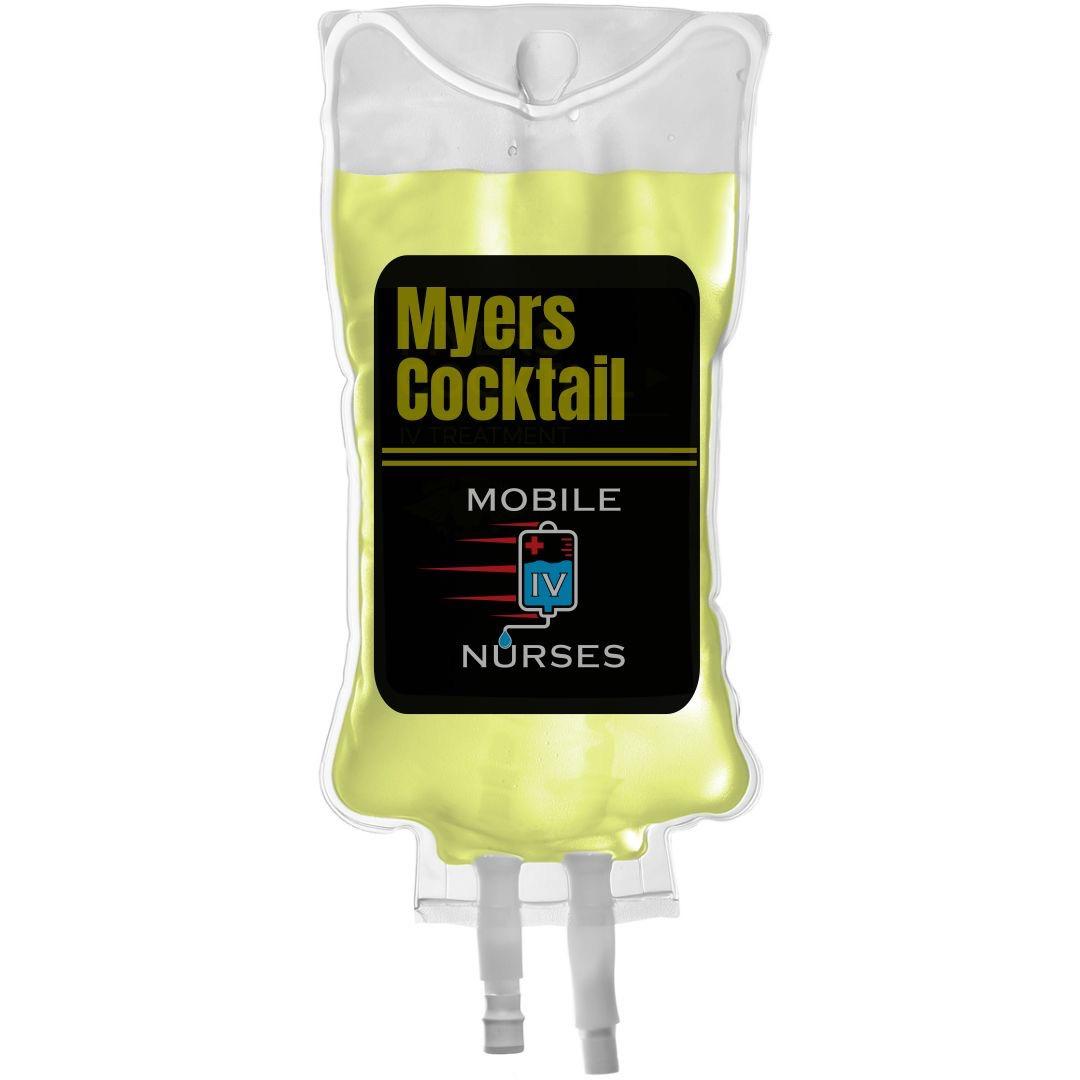 MYERS' COCKTAIL - $ 195
Our Best Selling Hydration Package.
Features 6 of our highest-impact vitamins, minerals, antioxidants, and hydration, can help with skin health, and aid your weight loss regimen. Supports your Immune System and can give you a burst of energy to stop you from feeling sluggish. Recommended for everything from hangovers to fatigue, the flu, recovery from an athletic event, or a chronic illness.
Our Best-Selling Hydration Package.
The Myers' Cocktail combines six of our highest-impact vitamins, minerals, and antioxidants in hydrating fluids. This IV can help with skin health, aid your weight loss regimen, support your immune system, and give you a burst of energy to stop you from feeling sluggish. It's recommended for hangovers, fatigue, the flu, athletic recovery, chronic illness, and more.
Schedule Your Appointment Online Now
The Best IV Service in Fort Lauderdale
We're head and shoulders above the competition in Fort Lauderdale for IV therapy. We provide an exceptional IV experience that includes:
Medical Expertise: We specialize in IV therapy, and this singular focus has given us an outstanding reputation. Our team members draw on their medical know-how to provide unmatched IV treatment. 
Convenience: The last thing you want to do when you're not feeling well is wait for hours at a hospital emergency room or urgent care center. Our mobile service brings safe and effective IV treatment to the location of your choice, so you can relax and remain comfortable. 
Top-Notch Products: We've developed all of our drip bag formulations with medical-grade ingredients. These vitamins, minerals, supplements, and medications can positively affect your health and well-being.
Affordability: IV therapy costs shouldn't break your budget. That's why all of our treatments have reasonable prices, which include travel fees to your location. 
Personalized Care: We truly care about your health and will do everything we can to get you the best results. That means getting your health history for comprehensive care, monitoring you throughout treatment, and customizing your drip bag with extra ingredients if needed.
There's no better choice for IV therapy in Fort Lauderdale, Florida. Contact us to book an appointment today!
What Is Mobile IV Nurses?
With Mobile IV Nurses, you get mobile IV therapy in Fort Lauderdale performed by experienced registered nurses with a strong commitment to patient care. They use their expertise to help you find the right IV treatment that will bring you optimal results.
Types of IV Therapy Available in Fort Lauderdale, FL
We're known for offering a wide variety of IV services. This versatility gives you plenty of options when it comes to selecting the right drip IV package for you. Here's a sampling of what you can look for in IV therapy in Fort Lauderdale:
The Myers' Cocktail: This physician-created formula uses B complex, vitamins B12, vitamin C, magnesium, glutathione, and zinc to revive and restore you, and it works well at relieving an array of symptoms.
Glutathione: One of the most powerful antioxidants, glutathione helps prevent free radical damage that leads to oxidative stress, which can take a toll on your mental and physical health.
Vitamin C: This is another good choice for an antioxidant-rich IV. It's also great if you need some extra immune system support, especially during cold and flu season.
Hydration therapy: Dehydration can be caused by several factors, from illness to strenuous athletic workouts; it also triggers a range of symptoms, such as headaches and fatigue. This treatment rehydrates the body with electrolytes and sterile IV fluids.
NAD+: Short for nicotinamide adenine dinucleotide, NAD+ is popular for its reported anti-aging benefits (both mental and physical).

Want to learn more about our different types of infusions? Contact us to learn more about IV therapy in Fort Lauderdale, FL.
What Can a Mobile IV Be Used For?
There are many health conditions that benefit from IV therapy, such as:
Our Fort Lauderdale IV therapy infusions can benefit you, whether you need symptom relief or wellness support. Talk to us to find the right IV treatment for your needs.
Recover After Shopping at Las Olas Boulevard
Fort Lauderdale is famous for its beaches, but there's also plenty to do off the sand. Las Olas Boulevard is one of the most dynamic destinations in the city for everything it offers. During the day, shop the boutiques for anything from handcrafted chocolate to a diamond necklace. The boulevard is also home to brand-name stores such as Warby Parker and Lily Pulitzer. At night, enjoy the vibrant Las Olas nightlife at the numerous bars and restaurants.
But be sure to take care of yourself, whether you visit day or night, because you can get too much of a good thing. Shopping outdoors in the heat of the Florida sun can leave you dehydrated if you're not drinking enough fluids. You may feel fatigued or lightheaded, which are common signs of dehydration. We offer IV therapy in Fort Lauderdale that rehydrates so you feel better fast.
IV infusions can also offer welcome symptom relief after a night out. Hangover symptoms such as headaches, tiredness, and nausea can all be alleviated with vitamin-rich IV fluids so you can enjoy the rest of your time in Fort Lauderdale. 
How Much Does a Mobile IV Cost in Fort Lauderdale?
Mobile IV Nurses offers pricing packages starting at $100, so you can find an IV drip bag that's sure to meet your budget. Additional supplements and medications start at $25 each:
Add-in vitamins: 
Amino Acid Blend
B Complex vitamins: B1 (thiamine), B2 (riboflavin), B3 (niacin), B5 (pantothenic acid), and B6 (pyridoxine)
Biotin
Vitamin B12 (methylcobalamin)
Glutathione
Magnesium
Zinc
L-Carnitine
Vitamin C
Taurine
Add-in medications: 
Reglan (metoclopramide)
Toradol (ketorolac) ($35)
Zofran (ondansetron)
Benadryl (diphenhydramine)
Pepcid (famotidine)
How to Book a Mobile IV in Fort Lauderdale
Trust Mobile IV Nurses for revitalizing IV therapy in Fort Lauderdale, Florida. Call (305) 458-5118, text us, email [email protected], or schedule your IV infusion online today.
Fort Lauderdale, FL IV Therapy Frequently Asked Questions
1
Can I get IV therapy at home?
You can with Mobile IV Nurses! We supply all the necessary equipment, and our medical professionals are experienced at administering infusions anywhere. That means we can come to your house, office, gym, or hotel room. We have many
service areas throughout Florida
, so it's easy to find mobile IV therapy in Fort Lauderdale and beyond!
2
Why should I get IV therapy at home?
There are many benefits to at-home IV treatment. Many of our patients enjoy the privacy of home-based IV therapy, compared to an IV bar or medspa. There's also the convenience factor. With our daily service, you can schedule our Fort Lauderdale IV therapy treatments before or after work or on the weekends. Finally, there are times when an in-home infusion is simply the most practical option. You may be unable or unwell to drive to a medical clinic if you're sick, so we bring IV therapy to you.
3
How do I pay for IV therapy in Fort Lauderdale, Florida?
We offer several easy payment options. You can use cash, credit, debit card, Venmo, Zelle, Cash App, Apple Pay, and you may also have the option to use your FSA or HSA, depending on your coverage.