When you're sick, the only thing you want is to feel like yourself again. The quickest, most effective way to do that is with an immunity IV. We've designed the Immune IV to target the common symptoms of colds, the flu, and other illnesses. With proven ingredients such as vitamin C, vitamin D, and zinc, it's a powerful IV drip for immune system support. Contact Mobile IV Nurses when you want rapid symptom relief.
The Immune IV
– $175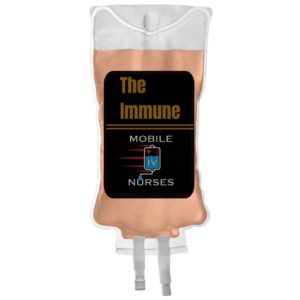 IV therapy for your immune system offers many benefits. Try it for yourself and experience the difference it will make for your health and well-being. Our Immune package is $175, which includes travel fees to your location. We understand it's hard to get out of bed when you're feeling sick, so we offer mobile service at convenient locations throughout Arizona, including Phoenix, Tucson, and Scottsdale.
The Immune IV currently includes:
Sodium Chloride 0.9% or LR
Vitamin C – 5,000mg
Zinc
IM Vitamin D
With this specially formulated IV therapy, immune system support will help you feel better fast.
How to Get Immune Support with IV Therapy
A strong, healthy immune system helps you fight off illness. And if you do get sick, immune support can reduce the severity and duration of your symptoms. Immunity IV therapy helps you feel better because it addresses the dehydration that intensifies symptoms such as nausea, fever, headaches, and body pains.
Why Choose Our Immune IV
An Immune IV from Mobile IV Nurses provides rich rehydration to replace the bodily fluids you lose during illness. We use medical-grade saline solutions, vitamins, and minerals in our IVs for the highest quality of treatment. As your dehydration disappears, your symptoms will improve, and you'll be ready to return to full strength. You don't have to let an illness keep you down when you rely on an immunity IV.
Schedule an Immune IV treatment with us, and you'll be treated by a registered nurse or paramedic on our staff. Our well-trained team members will check your vital signs and review your health history and current symptoms before the infusion starts so they can find the right drip IV for your needs.
We offer a variety of IV packages, including the option to customize your IV. For instance, if you're sick and struggling with nausea, you can add an anti-nausea medication to your IV fluids to target that specific symptom. We also offer rapid antigen COVID testing, which you can schedule with our online form or by contacting us. All of our IV packages, including the Immune package, are affordably priced to accommodate your budget. Partner with Mobile IV Nurses to take care of your health.
Schedule Your Immune IV Now With Mobile IV Nurses
Trust us for the best immunity IV therapy in Arizona. Book your appointment online, call (602) 677-6058, or email us at [email protected]