Find Symptom Relief with an IV for Allergies
The runny nose. The itchy, watery, puffy eyes. The sneezing and the wheezing. You can tell when your allergies are triggered—and it's not fun. But using IV therapy for allergies can bring much-needed symptom relief. 
Mobile IV Nurses specializes in high-quality IV treatments performed in the comfort of your home, office, or other convenient location. With our responsive mobile service, you avoid the long waits you typically encounter at an urgent care clinic or emergency room. And compared to oral medications, an IV for allergies brings fast, effective relief because fluids get infused into the bloodstream for quick absorption. That's why IVs are ideal for allergy relief. With these kinds of symptoms, you want to feel better as soon as possible.
MYERS' COCKTAIL - $ 195
We recommend a Myers' Cocktail for fast relief of allergy symptoms. The $195 price includes us traveling to your location!
Allergy Symptoms
Normally, your immune system goes into action to fight the kinds of germs that cause diseases like colds and flu, producing antibodies that neutralize viruses and bacteria. However, with allergies, the immune system misidentifies a harmless substance as an invader—such as pollen, pet dander, or dirt—and generates antibodies. You may experience the following symptoms as a result:
Sneezing
Itchiness in the eyes, ears, or roof of the mouth
Runny nose
Eyes that are red, swollen, or watery
Congestion
Headache
Coughing
Shortness of breath
You may find an allergy IV drip effective if you suffer from seasonal allergies, also called hay fever or allergic rhinitis. Pollen, grasses, weeds, hay, and trees can all be potential allergens. And even though they're called seasonal allergies, some people experience symptoms throughout the year.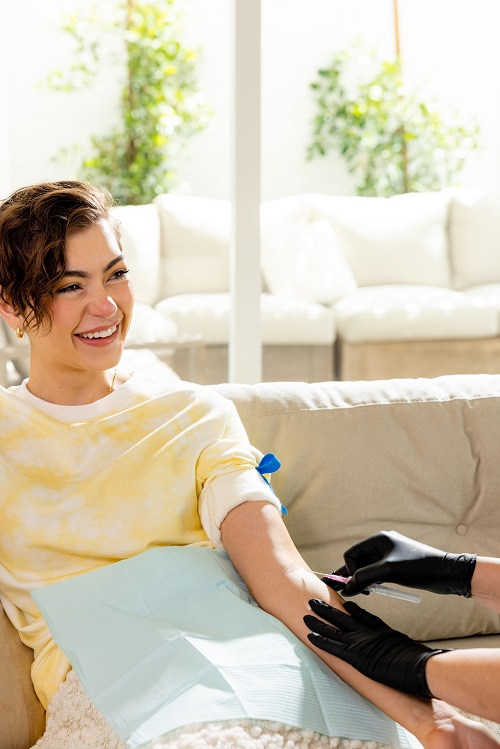 How IV Therapy Works for Allergies
An IV drip for allergies can be incredibly effective at alleviating those uncomfortable symptoms. The fluids are excellent at rehydrating the body, which can minimize the intensity of your allergy symptoms. The vitamins and minerals you can add to a drip bag can help reduce inflammation that's the result of an allergic reaction, so your symptoms diminish and don't take as much of a toll on your body. 
Administration of IV Therapy
Getting an IV infusion is a straightforward process, so it's easy to get relief for allergies and their symptoms. We offer prompt mobile IV service, which means we come to the location of your choice in our service areas. Our medical professionals perform a quick review of your vital signs and health history before hooking you up to the IV line. You can sit back and relax while the fluids drip down the line from the bag into your bloodstream for maximum absorption and rapid effectiveness. The entire IV process only takes 45 to 60 minutes.
Benefits of IV Therapy for Allergies
There are multiple benefits of IV therapy with Mobile IV Nurses. They include:
Responsive service: We come to your location as soon as possible, so you don't have to suffer long with your allergy symptoms.
Customization: You can choose which vitamins, minerals, and medications to add to your IV drip for allergies, depending on your symptoms.
Powerful change: Because your body doesn't have to digest a pill or other oral allergy medication, you don't have to wait long for your IV infusion to take effect and offer relief for allergy symptoms. Many people report feeling better almost immediately after their treatment.
Potential Side Effects
The potential side effects of IV therapy are fairly limited, especially when your IV is administered by a medical professional like the team members at Mobile IV Nurses. Contact us, and we will review common IV therapy concerns and the steps we take to prevent them.
Effective Allergy IV Treatment
We recommend a Myers' Cocktail for fast relief of allergy symptoms. This popular drip IV uplifts and re-energizes with a potent combination of ingredients:
These vitamins, minerals, and antioxidants support your immune system, help you become more alert, and increase mental clarity. You will also likely feel fresh and reinvigorated. Vitamin C, in particular, is great at alleviating inflammation that crops up as part of the allergic response. 
Mobile IV Nurses also offers an Ultimate Myers' Cocktail IV, which increases the amount of vitamin C from 1,000 mg in a regular Myers' Cocktail to 5,000 mg. We're experts in alleviating numerous health issues with Myers' Cocktail IV therapy, so contact us for high-quality patient care.
We Also Offer Add-Ons for Extra Symptom Relief
At Mobile IV Nurses, we can customize your allergy infusion therapy to address your specific symptoms. When medical professionals arrive at your location, they will discuss your needs and make personalized recommendations.
Along with our standard IV packages, we also offer a range of add-ins that you can include in your IV infusion starting at just $25 each. Some of our most popular add-ins for allergy sufferers are:
Vitamin B Complex
Vitamin B12
Vitamin C
Benadryl (diphenhydramine) 
Make sure to ask your IV provider about available add-ins. 
A Part of Your Allergy Relief Plan
While IV drip therapy can do a lot, it's important to recognize that it won't get rid of your allergies. Instead, IV therapy for allergies is meant to help you find relief from the symptoms of allergies. IV therapy can help you feel more focused and energized, which can help you weather allergy season in a better manner. 
As noted, you can also request an add-in of Benadryl to your IV drip to directly address your allergy symptoms. It's always a good idea to discuss your full allergy treatment with a medical professional.
Work with the Leaders in IV Therapy
With IV therapy, allergies don't have to bring you down. Mobile IV Nurses helps you find the right treatment for your needs, with affordable pricing packages and many locations throughout Arizona, Texas, Florida, and Colorado to serve you. The medical professionals on our team bring many years of experience to their jobs, and they uphold the highest standards for patient care and safety. 
Allergies are nothing to sneeze at, so get symptom relief with the power of IV therapy. Book an appointment with Mobile IV Nurses today.
IV Therapy for Allergies Frequently Asked Questions
1
How do I know if IV therapy for allergies is right for me?
We have the ability to customize treatment to a patient's specific needs. We'll talk with you about your particular allergy, the symptoms you suffer from, and your overall health history. Using that information, we can devise personalized treatment by adding certain vitamins, minerals, or medications designed to give you the best results.
2
Does an IV for allergies actually get rid of my allergy?
No, IV treatment targets the common symptoms triggered by your particular allergen. You will receive potent symptom relief from vitamin therapy for allergies.
3
Isn't IV therapy expensive?
Not with Mobile IV Nurses! We offer affordable IV drip packages. Our recommended IVs for allergies—the Myers' Cocktail and the extra-strength Ultimate Myers' Cocktail—are only $195 and $295, respectively. And those prices include travel fees to your location. We also offer a number of payment options for your convenience.
4
What can I expect from mobile IV therapy?
We offer a simple, streamlined way to get IV therapy. Allergies, migraines, illnesses, and many other health issues can be treated in the comfort of your home or office. We send one of our registered nurses or paramedics to your location, equipped with everything needed for your IV treatment session. You'll be monitored and kept comfortable during the 30- to 45-minute infusion treatment.
5
I have a busy schedule. How can I fit IV therapy for allergies into my day?
The brief IV treatment sessions can be booked anytime between 8 a.m. and 8 p.m. daily, and our mobile service eliminates the time it would take to drive and be seen for a doctor's appointment. Plus, there's no downtime with IV therapy, so you can get back to your day feeling recharged.
6
Is IV therapy for allergies better than taking other allergy medication?
We think that an IV for allergies can be a powerful way to treat the uncomfortable symptoms of allergies. An IV infusion is absorbed directly into the bloodstream as opposed to oral medications that must go through the digestive symptom. With that said, only you and your doctor can determine what works best in treating your allergy symptoms. It's a good idea to discuss all your treatment options with your doctor.