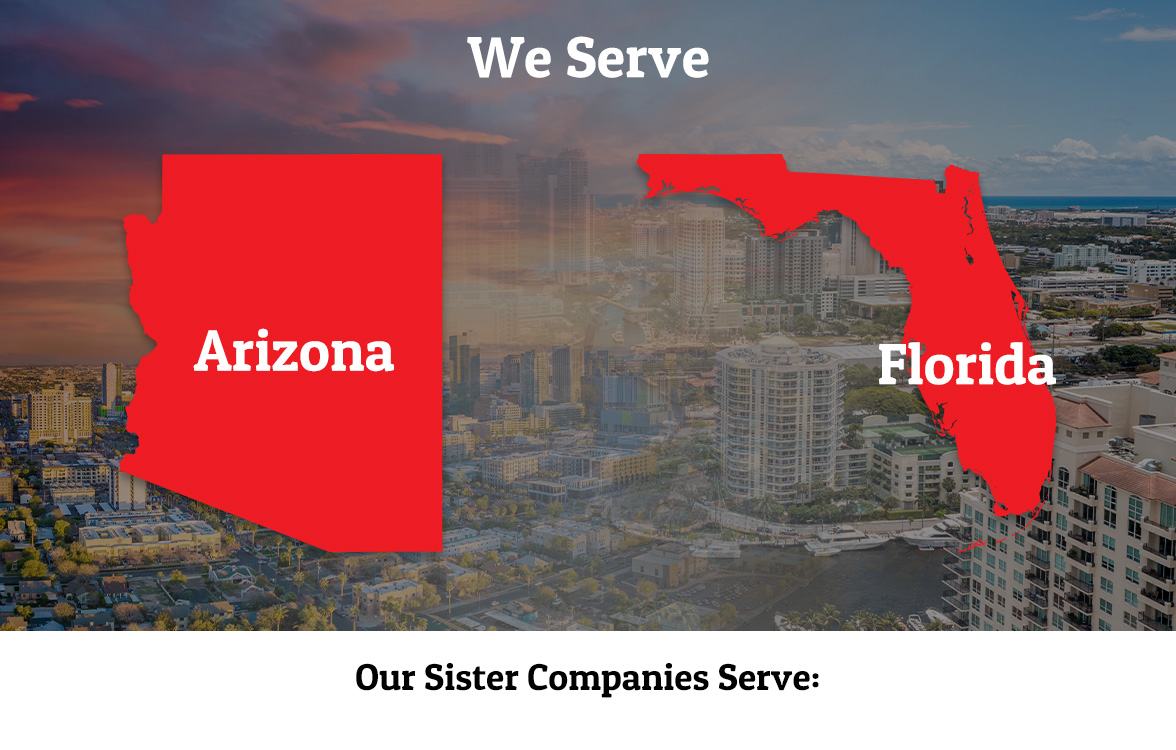 At Mobile IV Nurses, we are proud to help our patients replenish their bodies, find relief from uncomfortable symptoms, and revive their health through IV therapy. We believe that mobile IV vitamin therapy can help just about anyone improve their health — which is why we strive to bring it to as many people as we can.
Areas we serve IV therapy include cities throughout Arizona and Florida, where we offer a wide range of services supporting your well-being and addressing many different health conditions. And because our teams come directly to your home, it's always easy to find IV therapy near you!
List of Locations We Operate In: We Are Growing!
The popularity of mobile IV vitamin therapy is growing — and so are we! As noted, we are proud to offer IV therapy, serving areas in AZ and FL. As such, we continue to grow our teams of certified medical professionals throughout these states to help the health and well being of our customers. As we grow, we plan to expand into more cities and to offer even faster service.
Mobile IV Nurses in Arizona has several teams of registered nurses and paramedics ready to serve you in the Grand Canyon state. We offer Arizona IV therapy in the following cities:
The AZ areas we serve are particularly relevant for IV therapy. Given our treatments are first and foremost for rehydration, Mobile IV Nurses is the perfect service to request after a long day in the desert sun. Whether you are an athlete, a high performer, or simply want to feel your best, IV therapy in Arizona is always a good call.
Oro Valley
San Tan Valley
Across the country, Mobile IV Nurses in Florida is also serving patients in the Sunshine State with our experienced and professional registered nurses! If you're in Florida and looking for an IV drip near you, Mobile IV Nurses is the team to call. We offer Florida IV therapy in the following locations:
Similar to Arizona, heat is no stranger to the areas we serve in Florida. But it's often just plain muggy! With so many outdoor activities, it can be difficult to stay hydrated and energized once drained by the intense humidity. Whether you plan to play the day away at the beach or visit the happiest place on earth, fuel up with the right IV vitamin infusion.
Whether you're looking for IV therapy in Arizona to help you rehydrate or IV therapy in Florida to recover from a hangover, Mobile IV Nurses is here to give you the fluids, vitamins, and minerals you need.
What We Do
Mobile IV service is an exciting innovation in healthcare, and Mobile IV Nurses is a leader in this field. In the areas we serve, IV infusions are growing in popularity among people from all walks of life, from frequent business travelers and athletes to partiers and tourists who want fast recovery after a night out on the town.
Our IV treatments are made with medical-grade vitamins, minerals, and fluids that give your body everything it requires for optimum health. These ingredients drip directly into your bloodstream during IV therapy, which allows for maximum absorption almost instantly. As a result, many patients feel noticeable results in as little as 30 minutes into the infusion!
We've developed a comprehensive menu of drip IV treatments that can help enhance your overall wellness. Our patients use mobile IV vitamin therapy for many different reasons, including:
Symptom relief for temporary health issues such as colds, food poisoning, or hangovers, as well as chronic conditions such as migraines.
Fluid replenishment to alleviate dehydration associated with illness, athletic exertion, and other conditions.
Support for your overall wellness goals, including anti-aging and weight loss efforts.
And best of all, IV therapy is easy and seamless with Mobile IV Nurses. Simply select the mobile IV vitamin therapy you want when you make your appointment, then sit back and relax. Our team will come directly to your home (no need to get up!), review your health history, check your vital signs, and insert the IV into your arm.
For the next 45-60 minutes, you can watch TV, read, or listen to music while the vitamins, minerals, electrolytes, and medication work their magic and help you recover. And after treatment, you can resume your normal activities without any downtime!
There's no question — when you want to experience the best mobile IV therapy in Arizona and Florida, you need to call Mobile IV Nurses. The list of areas we serve with IV therapy continues to grow, so if you don't see your city on our list, make sure to check back frequently. You can also reach out to the company to double check that your area has not been added to our service areas yet!
Why You Should Choose Mobile IV Nurses
Your health is one of the most valuable assets you have. When you're feeling healthy and energized, you can get more done during the day. And frankly, you'll enjoy each day much more. At Mobile IV Nurses, we believe that all our patients deserve to be the healthiest version of themselves, which is why we strive to provide every patient with the best mobile IV service.
When it comes to IV therapy in the areas we serve, we only hire top medical professionals and don't settle for anything but the highest quality ingredients for our IV solutions.
When you get mobile IV services from Mobile IV Nurses, you get:
Medical expertise with a team of professional registered nurses and paramedics (Paramedics in Arizona only).
The convenience of IV therapy in your home, office, or hotel room so you can relax and remain comfortable during treatment.
Personalized patient care from our knowledgeable and friendly staff, who can customize IV therapy to meet your specific needs.
High-quality medical products, like the kind you'd find in a hospital emergency room or doctor's office.
A diverse treatment menu so you can receive IV therapy best suited to you.
IV treatment protocols that follow the highest standards for safety.
Affordable pricing packages for all IV treatments and flexible payment options.
Mobile IV Nurses can also help you find fast relief from migraines, tame your tummy during morning sickness, and generally improve your health so you can take on the world. So, don't wait another minute to experience IV infusions in the areas we serve.
Contact us to learn more about IV therapy and our services, or check out our online schedule to book an appointment today.
Trained Mobile IV Nurses in the Comfort of Your Own Home
What sets IV Mobile Nurses apart from other IV services? We think it's our unbeatable customer service. Our team of registered nurses and medical professionals is always on hand and willing to meet you at your location. They can arrive at your home, office, or other location.
Mobile IV therapy in the areas we serve can even mean requesting an IV at your hotel room or resort. If you are visiting Florida or Arizona, don't hesitate to contact us. IV therapies can help you recover more quickly from jet lag and help you feel energized and focused during your vacation or work trip.
Our service helps you maintain your privacy while receiving treatment in comfortable and familiar surroundings.
IV Therapy FAQs
Can a Nurse Give IV Fluids at Home?
In the states of Florida and Arizona, our team of medical professionals, including registered nurses can provide you with IV treatment in your home or other location. This procedure is incredibly safe, especially under the guidance of a trained technician. IN the state of Arizona a Paramedic can also administer your IV fluids.
What Are Common Uses of Mobile IV Therapy
IV therapy can be used in so many different ways. It can help you recover more quickly from an illness, increase your energy levels, improve your focus, and help you feel like the best version of yourself.
Just a few of the common symptoms IV therapy can help with are:
From the warm ocean waves of the Florida beach to the gorgeous desert-scapes of Arizona, we are here to help you thrive. Now is the time to support your health with IV therapy in the areas we serve.
Book your appointment today.