Mobile IV Nurses has packages designed to alleviate almost any symptom. Whether you want to rehydrate after a marathon or need the flu-fighting power of our Myers' Cocktail, we have an IV therapy solution to get you back on your feet. Our IV therapy cost ranges from $100 to $395.  so you get treatment that is both effective and affordable. 
Learn more about our IV treatment menu, then contact Mobile IV Nurses to book an appointment for your IV therapy session.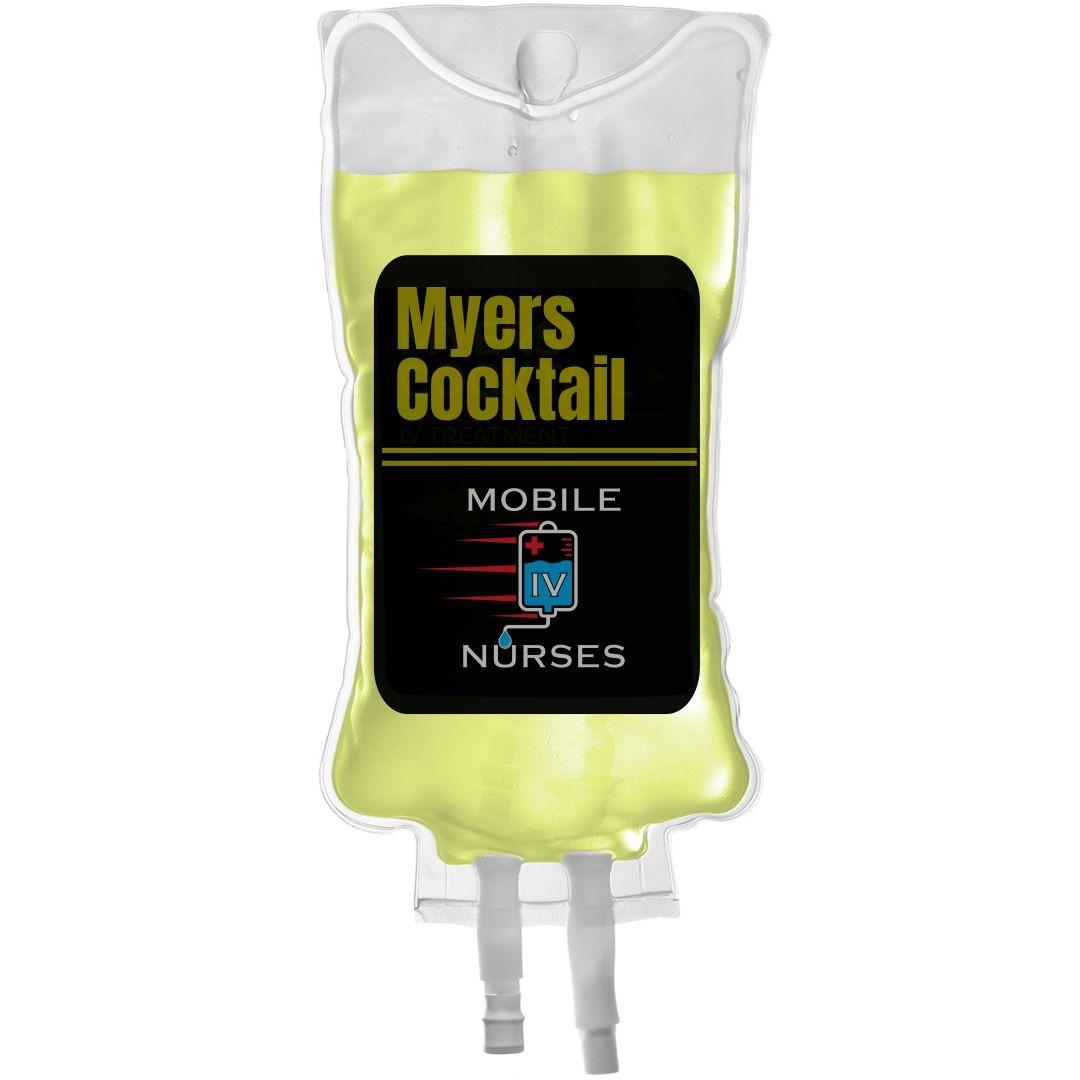 MYERS' COCKTAIL -

$

195
---
Special: Regularly $225 - Now $195!
Our Myers' Cocktail IV hydration package is our best-selling package. Customers rave about the Myers' Cocktail helping them to alleviate symptoms of numerous illnesses and ailments.
This package features six of our highest-impact vitamins, minerals, and antioxidants. The Myers' Cocktail supports your immune system and can give you a burst of energy to stop you from feeling sluggish. This package is what we recommend for everything from hangovers to fatigue to the flu. It can even be used for recovery from an athletic event or chronic illnesses. The blast of vitamins and hydration can help with skin health and aid your weight loss regimen. Our Myers' Cocktail IV price is also affordable, so you can get relief when you need it without breaking the bank.
Normal Saline
Vitamin B Complex
Vitamin B12
Zinc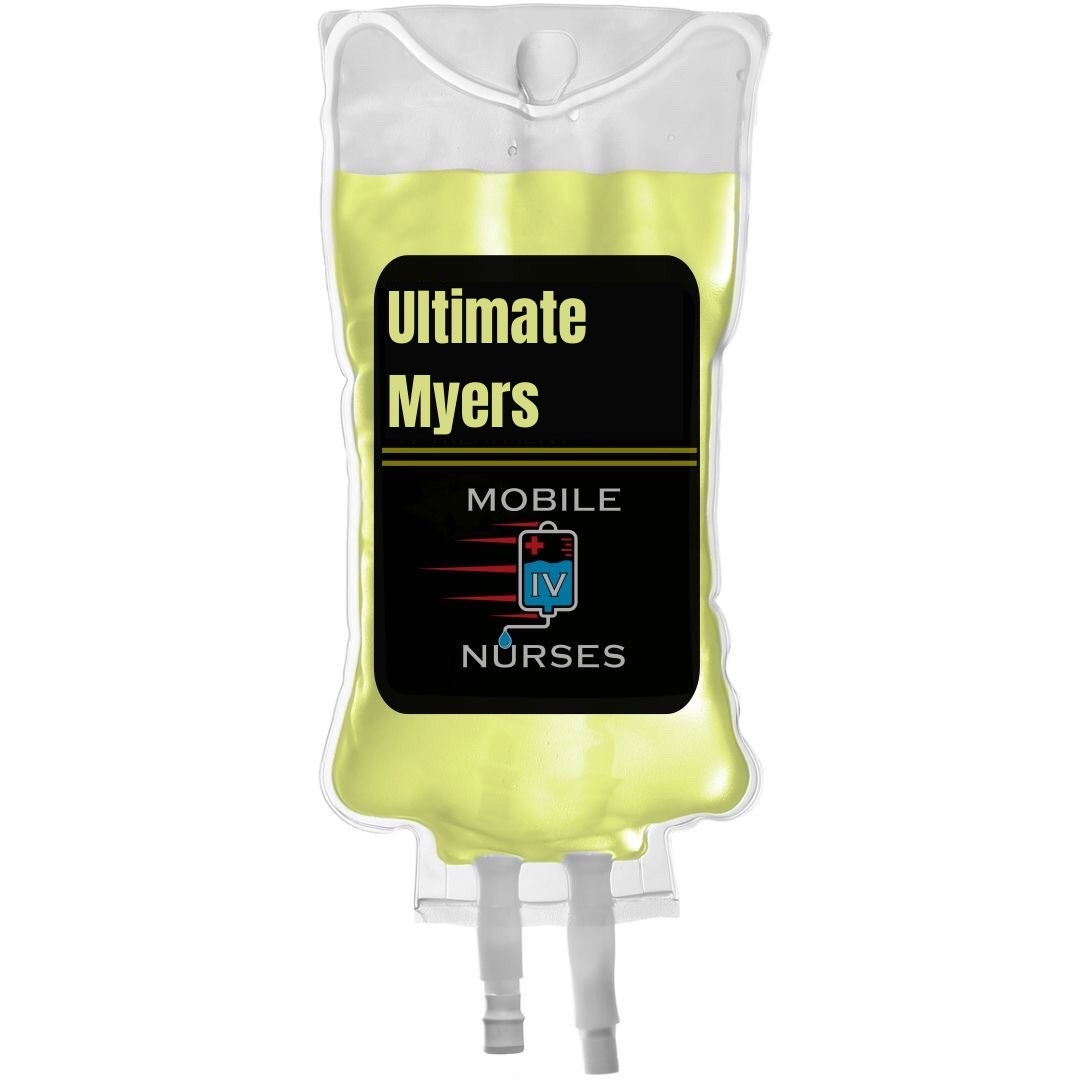 Ultimate Myers-

$

295
---
This is our premium package for those who tell us, "Give me the best you've got." With 5000 mg of vitamin C and 1000 mg of glutathione, this antioxidant-rich package has been noted to knock out symptoms of even the toughest flu or hangovers. It can also enhance overall energy levels and alertness.
Normal Saline
Vitamin B Complex
Vitamin B12
Zinc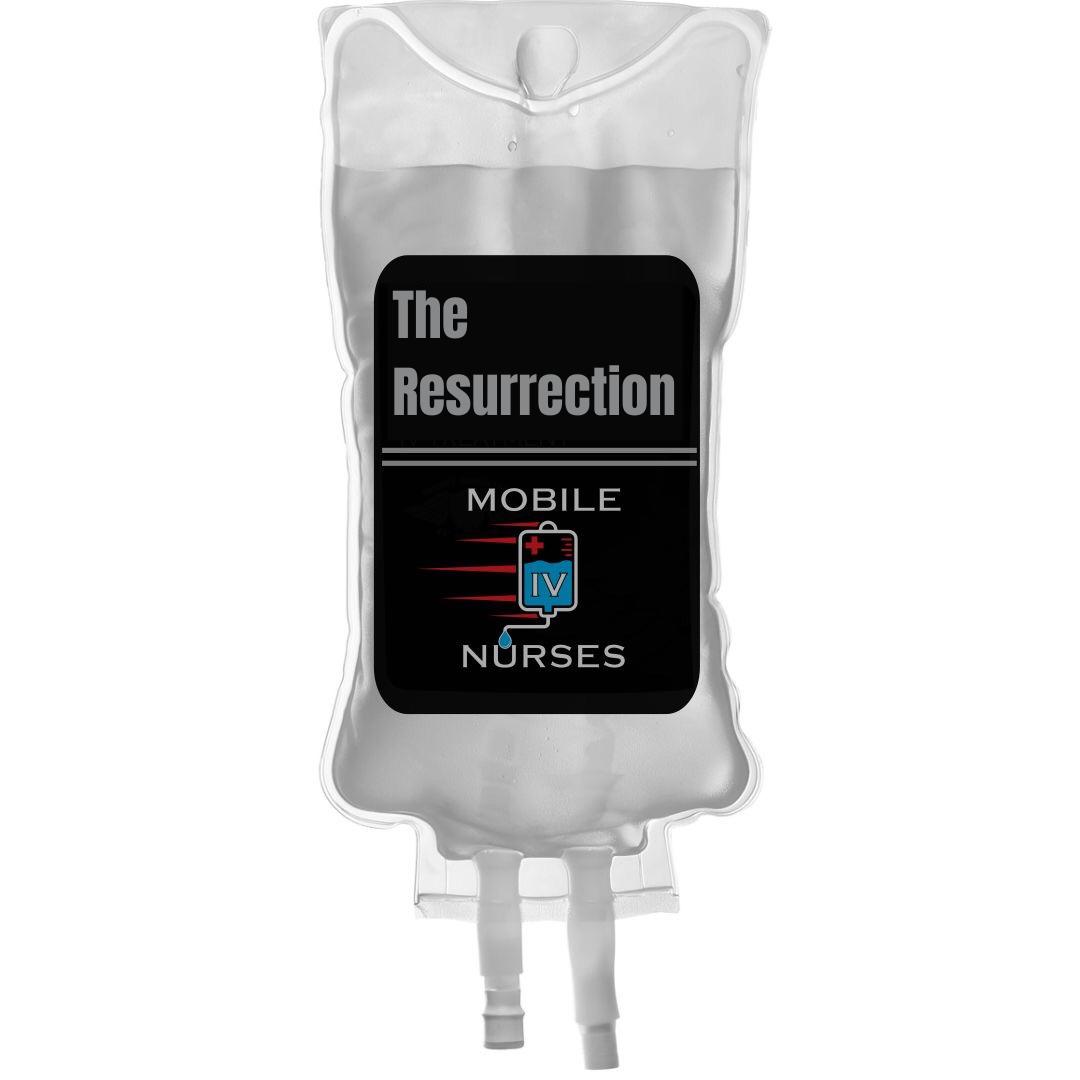 THE RESURRECTION PACKAGE -

$

395
---
This drip IV is a powerhouse combination of B Complex, zinc, vitamins C and B12, magnesium, glutathione, toradol, two doses of Zofran, Pepcid, and Benadryl. Start feeling better today!
Start feeling better today!
B Complex
Vitamin B12
Zinc
Toradol
Zofran
Pepcid
Benadryl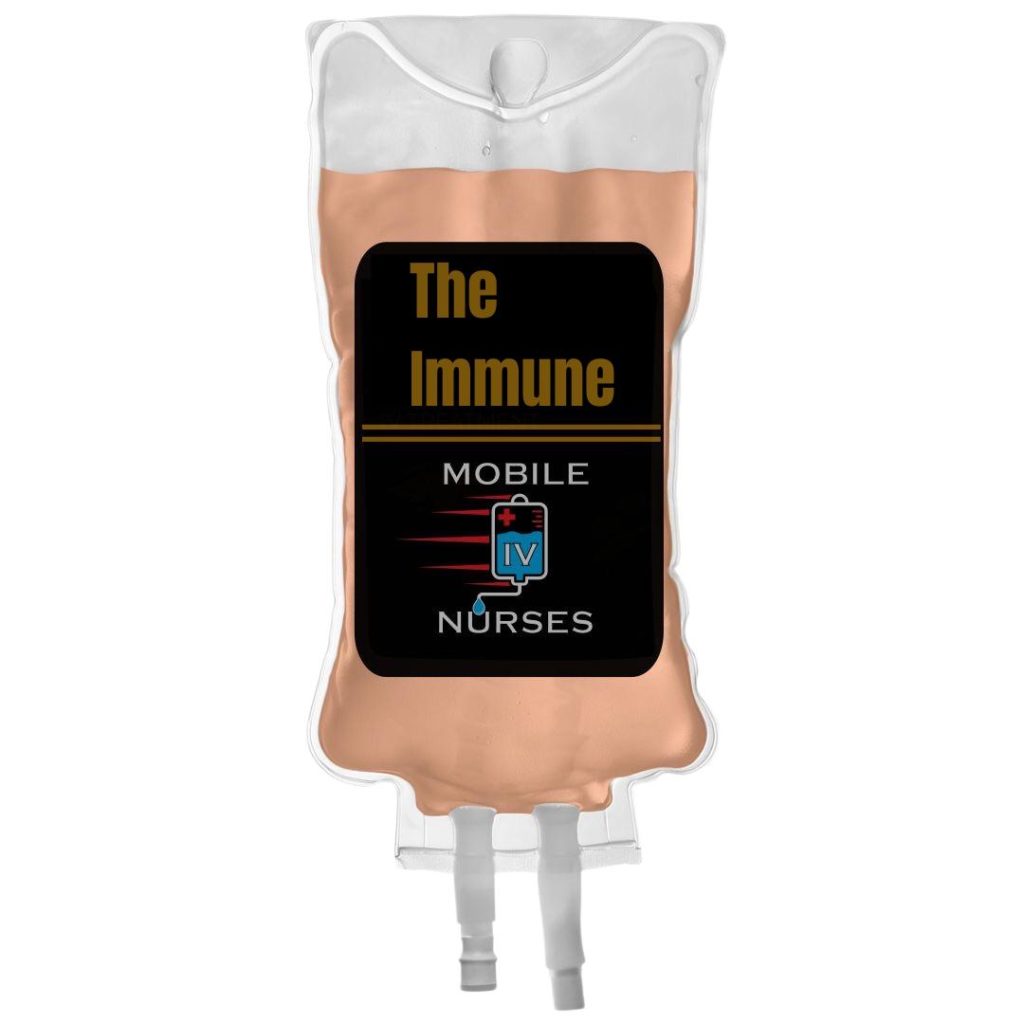 THE IMMUNE IV PACKAGE -

$

195
---
We use vitamin C, vitamin D, and zinc to help your body feel better when you're ill and need symptom relief. This IV gives you high-quality hydration, which is key for your body to fight and overcome any type of sickness.
Start feeling better today!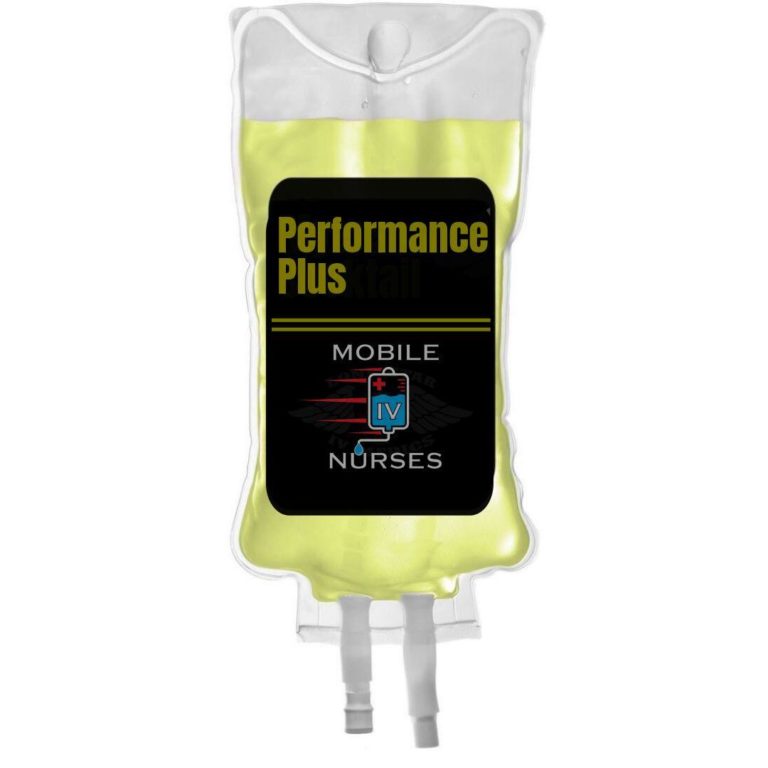 THE PERFORMANCE PLUS -

$

325
---
Raise your game! The Performance Plus IV puts together the essentials that your body needs pre- or post-workout. We recommend this IV if you are an athlete or will be highly active during the day. This Mobile IV Nurses' formulation includes saline, B Complex, B12, taurine and NAD+.
Bring your performance to it's highest level you never thought possible!
Gold Package -

$

175
---
The GOLD hydration package is an IV that includes 2 add-ins of your choice. This package is recommended for everything from nausea to pain to food poisoning to mild hangovers. With this packages you can choose any additional 2 vitamins, antioxidants, or medicines we offer on the bottom of this page in the "vitamin add-ins" section.
The gold package comes standard with b vitimans and 1000cc of saline and is our second highest selling packge. Our team of trained medical professionals can help you determine what add-ins you should get, alongside helping with recommendations of what package will be most cost-effective for you to get feeling better.
Vitamin B Complex
2 Add-In of your choice (vitamin or medicine)
Silver Package -

$

150
---
The SILVER Package is typically recommended for headaches, the cold or flu, or one too many drinks the night before. PH balanced fluids and B-Complex come with this package and you have the choice of one add-in as well. Typically anti-nausea or analgesic (non-narcotic pain reliever) are used as the medication with the silver package.
If deep hydration and a medicine is what you need to alleviate your symptoms, the silver package is for you. This package is also commonly used for nausea, pain, recovery and body aches. Our team can help you decide what add-in will be best for your symptoms if you want to schedule a silver package IV drip.
Vitamin B Complex
One Add-In of your choice (vitamin or medicine)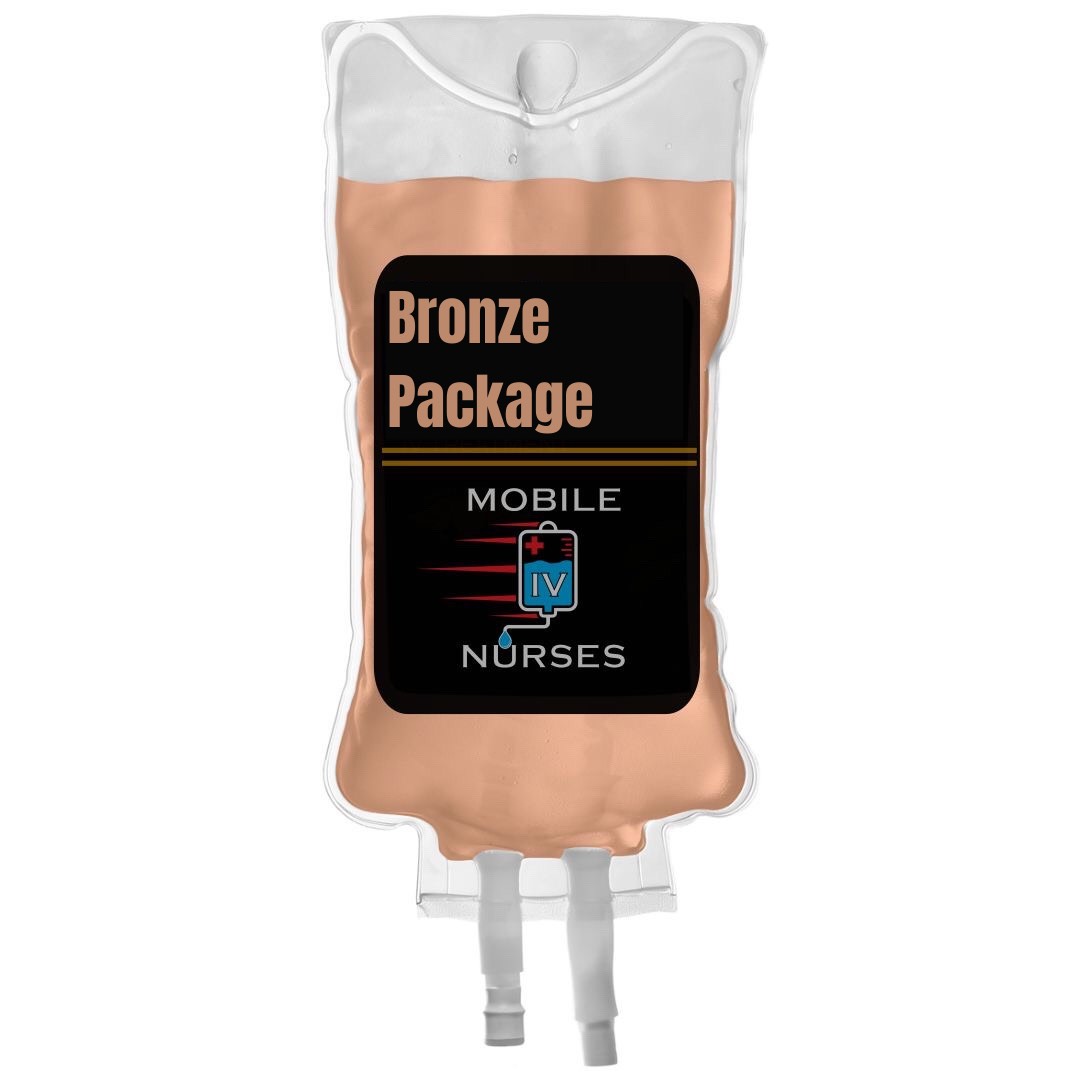 Bronze Package -

$

125
---
Get hydrated as efficiently as posible with our BRONZE Package. The bronze package can give you a little extra boost of energy and hydration for an upcoming athletic event, a day in the sun, a bachelor party, moving to a new home, or even a bad nights sleep. This is the most affordable IV we offer with the exception of just getting normal saline.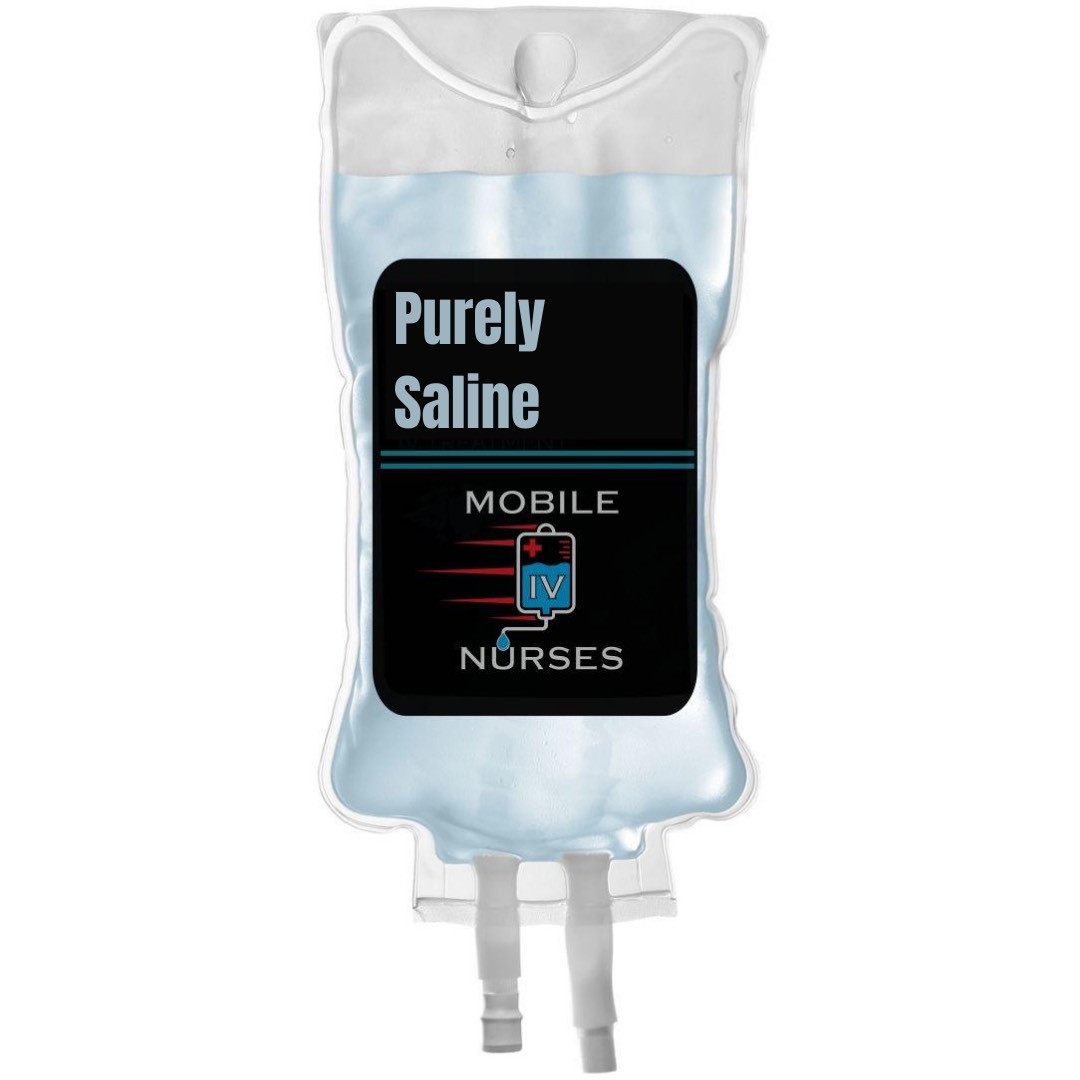 Purely Saline -

$

100
---
Our cheapest in-home IV is designed for patients who need to get hydrated but do not want additional vitamins or medicines. It's also a good way to try IV therapy if you have allergies or medical conditions. If you just need pure fluids for hydration and nothing else, this package is designed for you.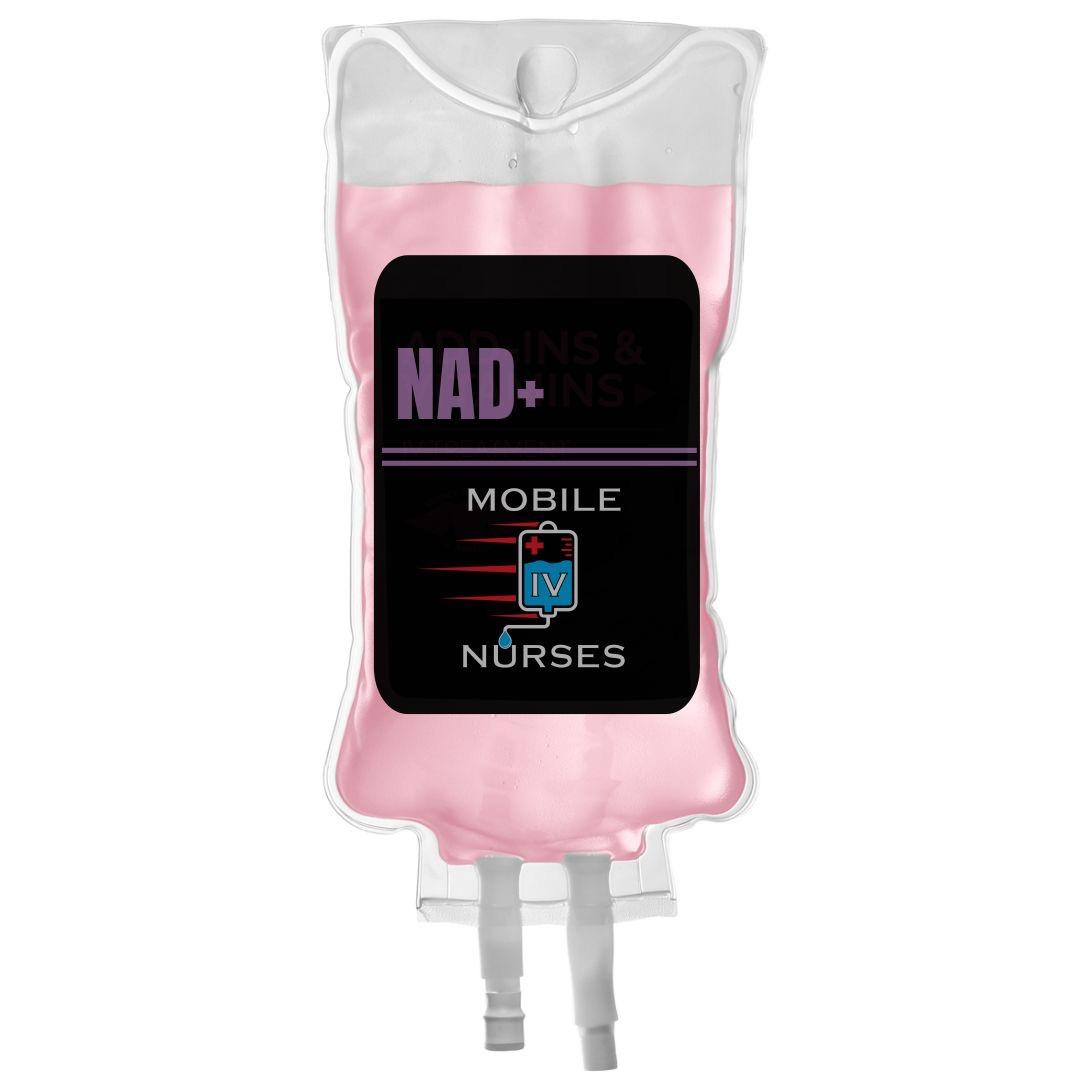 NAD+ -

$

200+
---
NAD+ NAD+ is known for its potential anti-aging and addiction treatment benefits. NAD+ is a coenzyme found in almost every cell in your body. The primary purpose of NAD+ is to fuel metabolic reactions by enabling your mitochondria, or your cells' power stations, that convert food to energy. NAD+ can help you overcome fatigue, aid with cell regeneration, and maximize brain function.
NAD+ (Price varies based on dosage)
You Can Add On To Any Package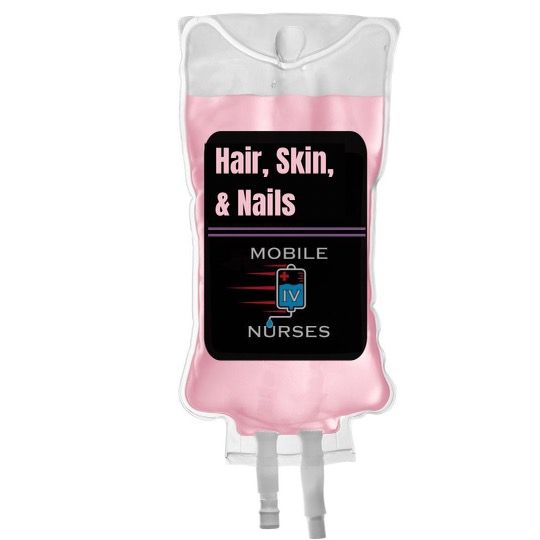 Hair, Skin, and, Nails

$

275
---
Designed to deliver ingredients that help to promote healthy hair and nail growth, while also combating oxidative stress caused by free radicals to give your skin a youthful glow.
Normal Saline
B12 -1,000 mcg
Vitamin C - 1,000mg
Glutathione - 1,000mg
Biotin - 1mg
Restore

$

225
---
Designed to aid the body through increased energy and oxidation of fat, all while minimizing muscle loss, supporting exercise performance and aiding in the reduction of post workout recovery times.
Normal Saline
B-Complex - 1mL
Amino Blend - 1mL
L-Carnitine - 500mg
Taurine - 100mg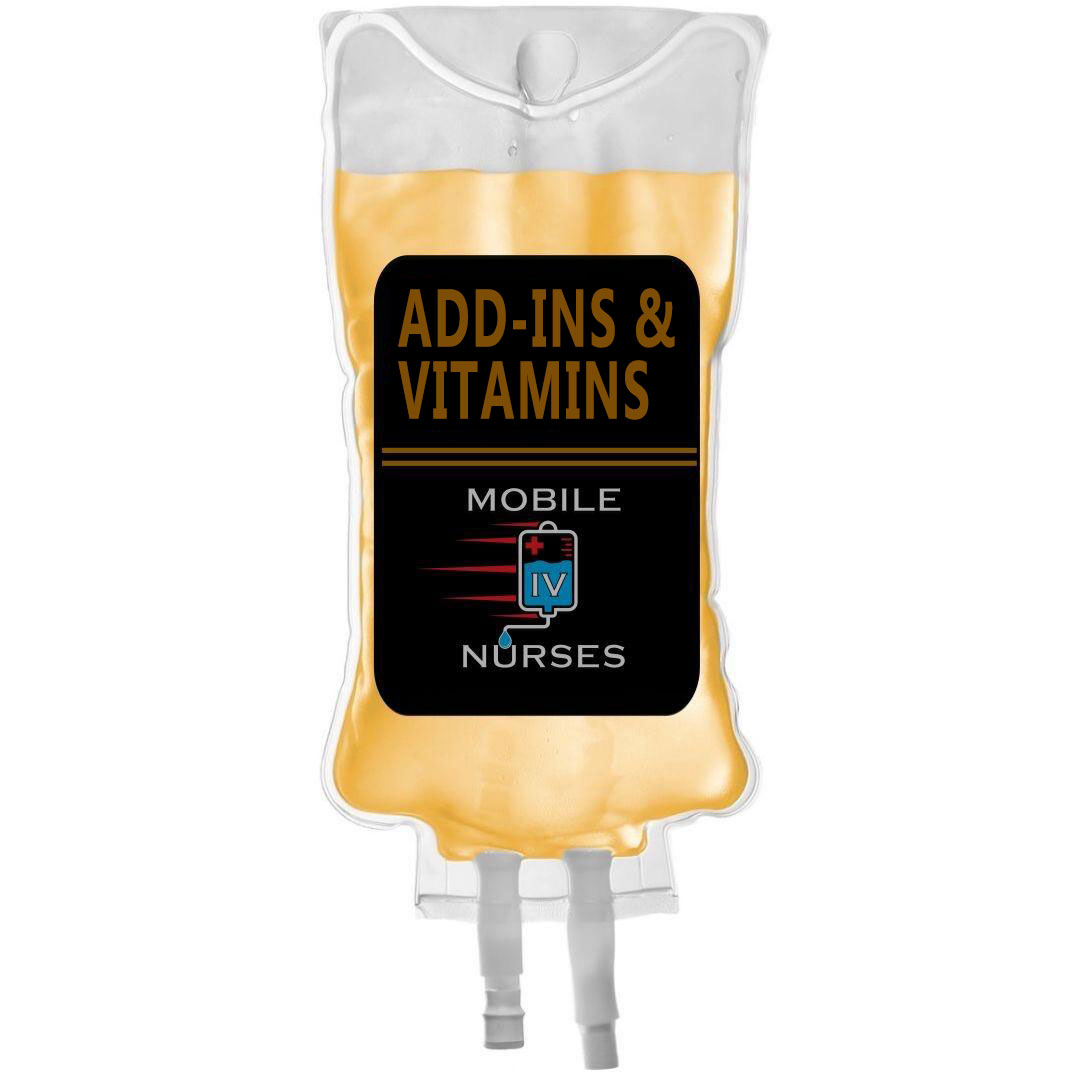 IV Add-Ins
$

25
Vitamin B12
Vitamin B Complex
Zinc
Benadryl (Anti Histamine)
Zofran (Anti Nausea)
Toradol(NSAID Non-Narcotic Pain Management)
Reglan
Pepcid
Taurine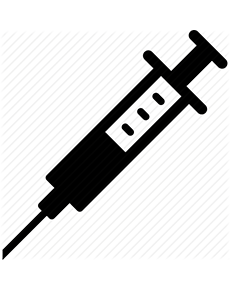 Intramuscular (IM) Injections
$

35
per injection
Lipo C
Vitamin B12
Vitamin D3
Toradol(NSAID Non-Narcotic Pain Management)
Zofran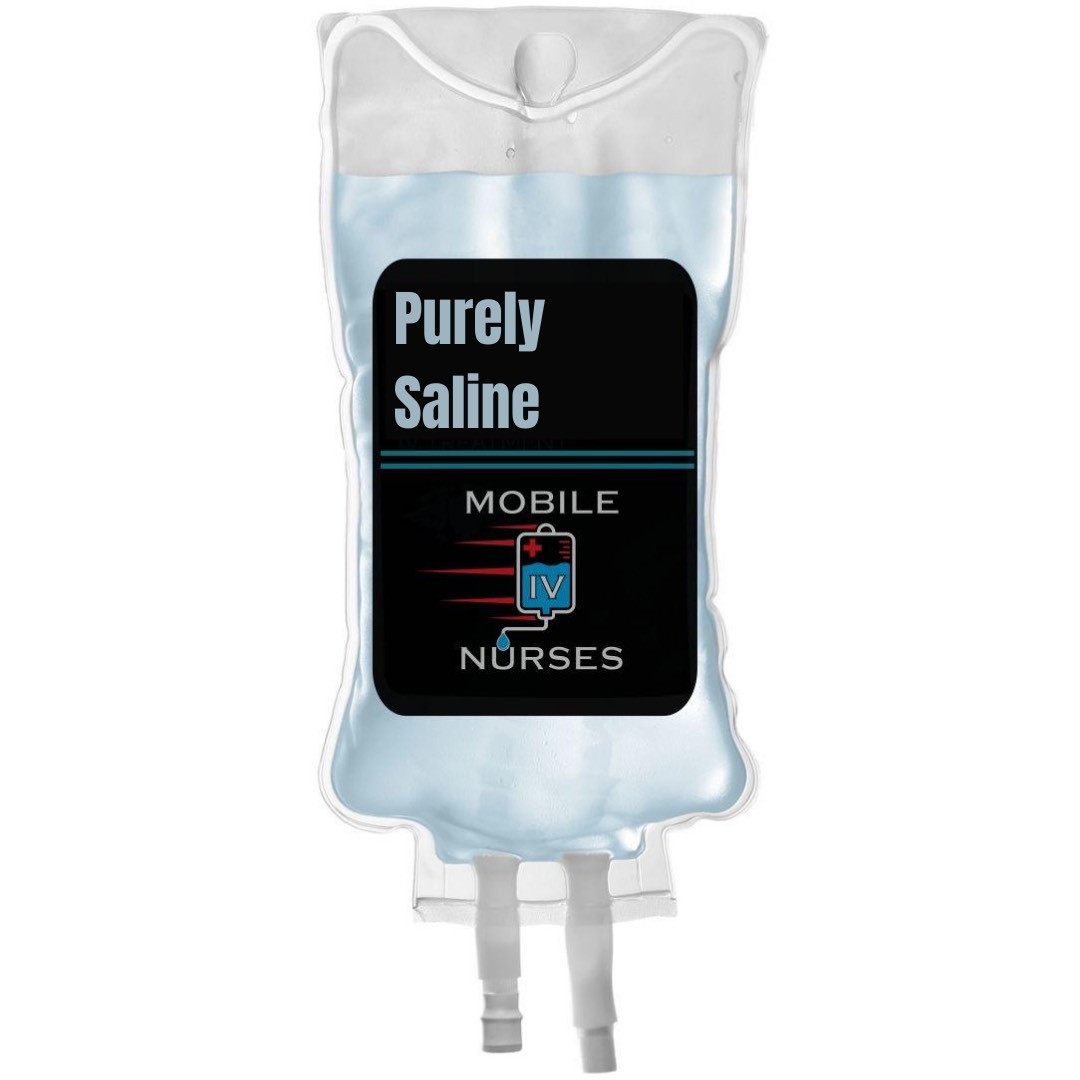 Additional Saline (1L)
$

50
How Much Is IV Therapy?
Our in-home IV therapy packages range from $100-$395. Add-ins such as vitamins can be added for $25 a piece or additional saline can be added for $50. Each of our IV infusion packages comes with the same level of professional care and courtesy. Our service area covers Phoenix and Tucson, and the price includes a provider's trip to your home or office. Following a brief assessment of your symptoms, your professional will help recommend the IV best suited to your unique health situation and body chemistry.
Once you've chosen your IV therapy package and add-ins, your provider will collect your signed waiver, take your vital signs and numb the injection area with topical spray before administering your IV.
At Mobile IV Nurses, we strive to keep our IV therapy costs simple and straightforward so our customers know exactly what to expect.
FAQs About Our Pricing
Our in-home IV therapy prices range from $100 to $395, which includes travel fees to your location. You can also select other add-ins for your drip bag, such as extra vitamins and medications ($25 each) or in some cases when needed more saline ($50).
IV vitamin therapy is versatile, with many uses. It's fast and effective, delivering fluids with vitamins, minerals, or medications right to the bloodstream. These IV fluids bypass the digestive system, so the treatment offers greater nutrient absorbency compared to oral solutions. IVs also work well for people who have trouble keeping down fluids due to illness or other medical conditions. You can use IV therapy to address several health needs: dehydration, fatigue, illnesses, altitude sickness, hangovers, migraines, vitamin deficiency, athletic training, and more.
3
How long do IV fluids stay in the body?
The length of time depends on the individual patient, their general health, and the type of IV therapy they use.
4
How does mobile IV therapy work?
Our team members come to the location of your choice — such as your home, office, or hotel room — with daily service available. You just relax and remain comfortable while we perform the infusion. Mobile IV Nurses has many areas we serve in Arizona and Florida, so it's easy to find treatment near you.
5
I've never had IV therapy before. What's a good package for beginners?
If you're simply looking for fast hydration, try our Purely Saline package that doesn't have extra ingredients. Or, the Myers' Cocktail has a proven formulation that can address many health concerns, and it's easy to customize the drip bag. Our team members will review your health history and any current symptoms to help you find the best options.
6
Who performs the infusions?
Medical professionals with experience in IV therapy handle all treatments at Mobile IV Nurses. These team members include registered nurses and paramedics, depending on location. They also receive medical direction from a team of physicians and an advising board with expertise in IV therapy.
7
How much are IVs with health insurance?
We do not take insurance, but we accept other forms of payment such as cash, credit card, or debit cards, as well as HSAs and FSAs in some cases. Contact us to learn more about IV costs and payment options.
8
When can I schedule an IV infusion session?
The Mobile IV Nurses team is available from 8 a.m. to 8 p.m. daily. Our 24-hour service is dependent on nurse availability.
9
How long does IV therapy take?
We specialize in prompt, responsive IV therapy. A typical appointment takes 45 to 60 minutes. The specific length of time for your IV infusion depends on the treatment you select.
10
Is there downtime after an IV infusion?
No. After our team member completes treatment and gives you the OK, you can go about the rest of your day. However, it is recommended that you rest and not be too active if you are recuperating from an illness or recovering from a flare-up of a medical condition, so your body has time to heal.
11
How often should I get an IV treatment?
This depends on what you want to achieve with vitamin IV therapy. Weekly IV drips are used for detox or wellness treatments. Multiple IV infusions over the course of a few days help bring symptom relief to people suffering from illnesses. And occasional IV treatments are used by people suffering flare-ups of medical conditions, such as migraine or arthritis. For instance, migraine attacks may be lessened in severity or even prevented with timely IV therapy. IVs are also ideal for temporary conditions such as athletic recovery, hangovers, or dehydration from excessive sun or heat exposure.
12
Who should not get an IV?
We are unable to treat patients with the following conditions: congestive heart failure, kidney failure, chronic kidney disease, abnormal vital signs, or medical emergencies.
Get Affordable Relief From Your Home With Mobile IV Nurses
For any additional questions on our pricing or policies, For Arizona call (602) 677-6058 for Florida call (305) 458-5118 or reach out to us online. We believe no one should have to wait for relief, so we'll be sure to reply within 24 hours. When you're ready to experience the benefits of IV infusion therapy in the comfort of your own home, just give us a call or text and we'll be there for you.