Schedule Your IV Therapy Today
The Myers' Cocktail is the perfect example of everything IV therapy can do to support your health. Its proven combination of powerful ingredients makes the Myers' Cocktail IV the most popular choice for fighting fatigue and boosting energy.
Despite its unusual name, Myers' Cocktail is not an alcoholic drink. But rather, it's a solution that rehydrates the body and provides symptom relief for a variety of ailments. Its unique blend of vitamins, minerals, and electrolytes is infused into the bloodstream so it can quickly ease headaches, nausea, fatigue, and more. A Myers' Cocktail IV drip is an all-purpose solution for many health issues.
In the past, a Myers' IV could only be found in clinical facilities like a hospital emergency room or doctor's office. With the growing popularity of IV therapy, this treatment is now widely available at IV bars, med spas, and other locations.
Mobile IV Nurses sets itself apart by delivering this treatment to you at the location of your choice, which is especially helpful if you're too tired or sick to travel for treatment. Enjoy the convenience of a Myers' Cocktail at home with our experienced medical professionals. Contact us today to get fast relief with a Myers' Cocktail IV.
MYERS' COCKTAIL PACKAGE – $195
The price of this package includes a travel fee for our team to come to your location. With many locations throughout the state, you're sure to find one near you. We offer IV therapy throughout Arizona's major cities such as Phoenix, Tucson, Tempe, and Scottsdale, as well as Florida.
Myers' Cocktail IV Package – $195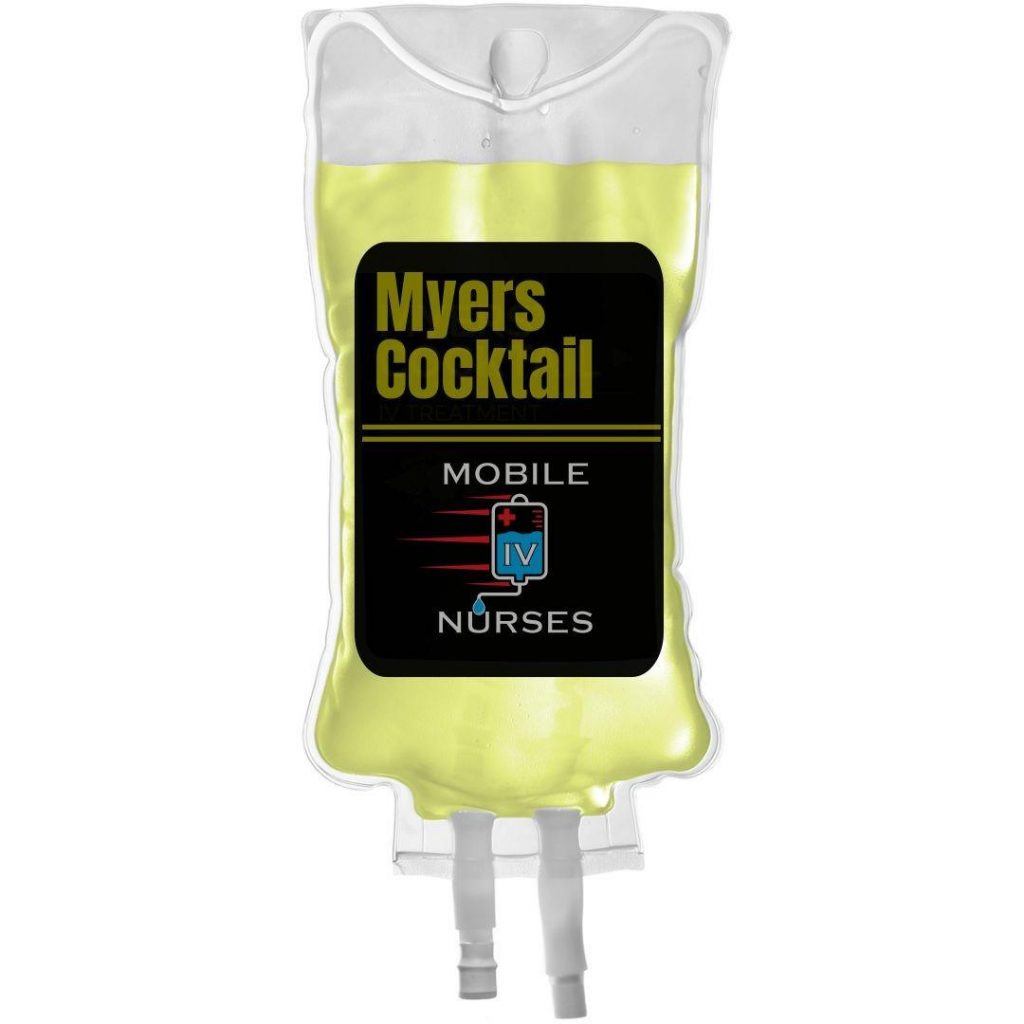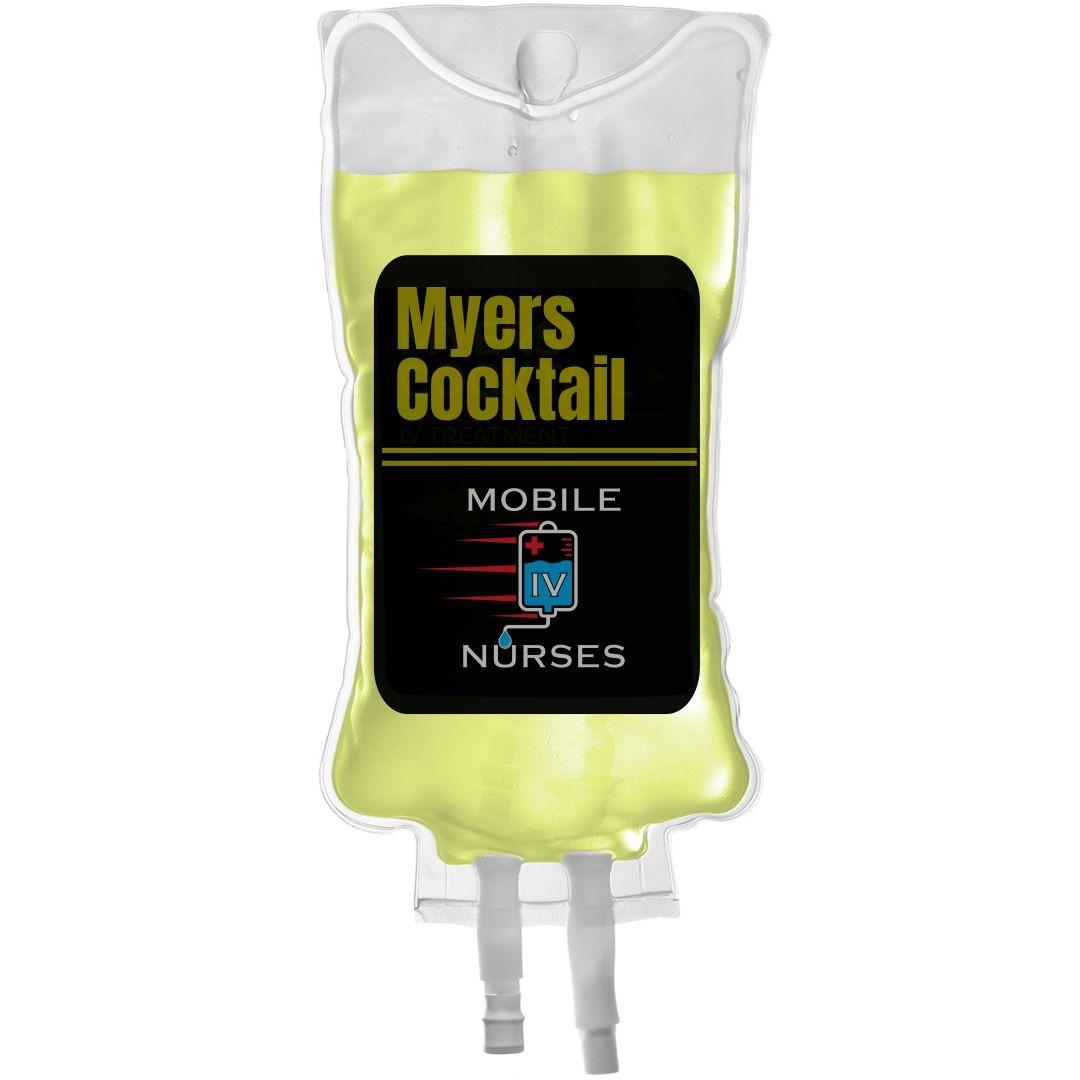 The price of this package includes a travel fee for our team to come to your location. With many locations throughout the state, you're sure to find one near you. We offer IV therapy throughout Arizona and Florida.
Schedule Your Myers' Cocktail Today
Ultimate Myers' Cocktail – $295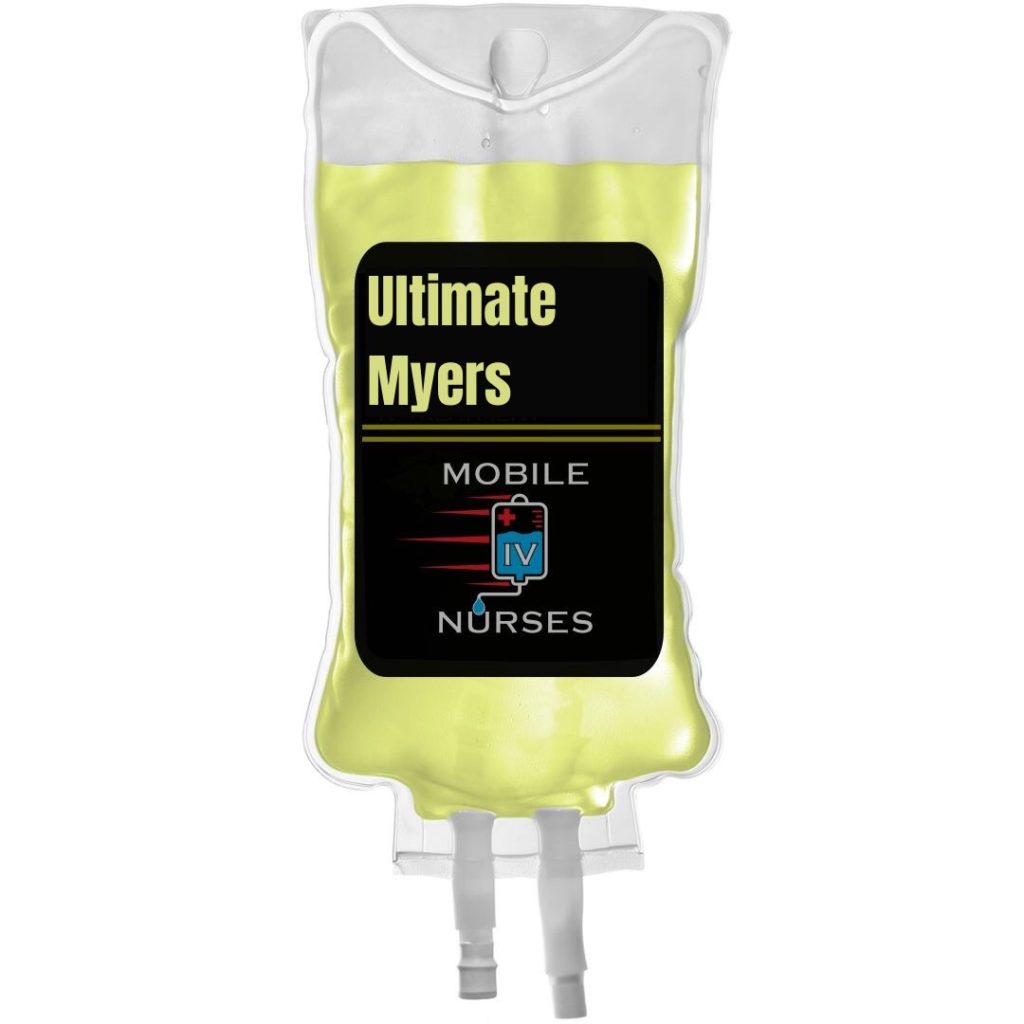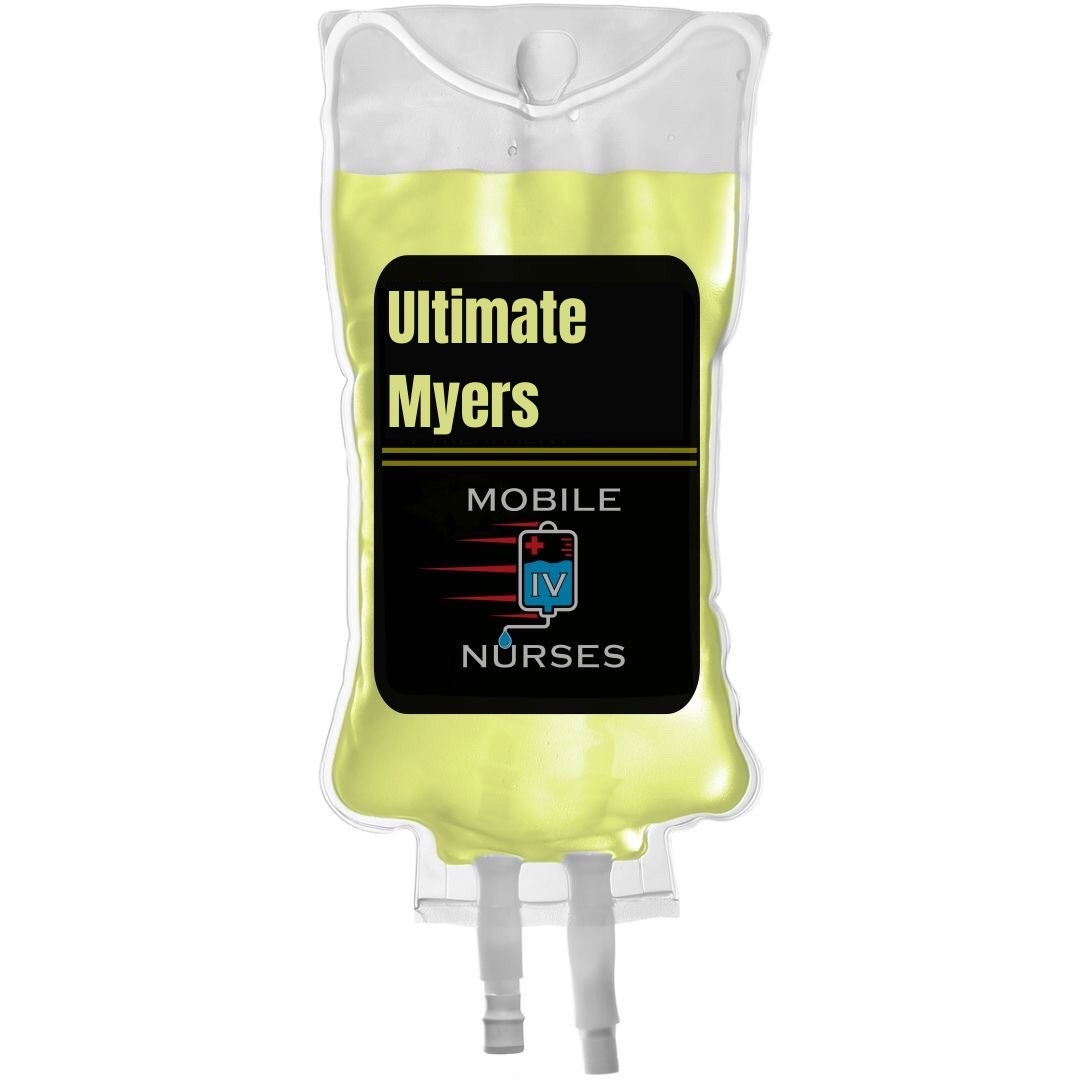 Ultimate Myers' Cocktail offers higher concentrations of vitamin C and glutathione than a typical Myers' Cocktail to help boost your immune system, fight fatigue, and supply much-needed energy. The $295 package price includes a travel fee to your location.
Schedule the Ultimate Myers' Today
OUR BEST-SELLING MYERS' COCKTAIL
Mobile IV Nurses is the premier provider of Myers' Cocktail IV therapy throughout Arizona and Florida. Our trained registered nurses and paramedics come to your home, office, or other convenient location and ensure you enjoy a safe, comfortable IV experience that brings the best results.
The Myers' Cocktail infusion is a science-backed treatment with a reputation for delivering measurable, effective results. Dr. John Myers came up with the idea for an IV that could address a range of symptoms, and his work was completed by Dr. Alan Gaby, who named the finished product in Myers's honor.
We're proud to offer our patients Myers' Cocktail IVs and other drip IV treatments using the best, medical-grade ingredients. While a Myers' IV works wonders on its own, you can also have our knowledgeable team members help you customize treatment with add-on vitamins, minerals, or medications to target specific health concerns.
MYERS' COCKTAIL BENEFITS AND USES
This IV is a best-seller because it's efficient at addressing many types of medical conditions. At Mobile IV Nurses, we use it to help patients in Arizona & Florida suffering symptoms of:
Altitude sickness
And much more!
The ingredients in a Myers' Cocktail infusion have been chosen for their effectiveness at symptom relief, but they also work well when other vitamins and medications are added to the drip bag. For instance, if you are struggling with nausea due to morning sickness or the flu, we may recommend adding Zofran to reduce your queasiness. Our team members take the time to talk with you and create an IV treatment that's unique to you.
MYERS' COCKTAIL INGREDIENTS
A Myers' Cocktail contains a blend of the following ingredients:
Saline: Each IV contains 1,000cc of normal saline solution, which is basically sterile saltwater. The saline delivers nutrients to the body and replenishes fluids and electrolytes, which is ideal for addressing dehydration. You can order a Myers' Cocktail with either normal saline or Lactated Ringer's solution.
Vitamin B12:This vitamin is known for its ability to supply extra energy. B12 relieves fatigue and maintains blood cell and nerve health; it's also helpful for diminishing the intensity of migraine symptoms.
Vitamin B Complex: This group of B vitamins includes B1 (thiamine), B2 (riboflavin), B3 (niacin), B5 (pantothenic acid), and B6 (pyridoxine). B Complex assists with energy production and cellular metabolism. It also reduces fatigue.
Vitamin C: This immunity powerhouse also supports healthy muscles, bones, and blood vessels. Vitamin C helps the body heal.
Glutathione: Your body needs antioxidants such as glutathione to remain healthy and strong. Antioxidants help prevent free radical damage that causes oxidative stress, which can harm the body at a cellular level. Glutathione may also benefit the immune system.
Magnesium: This mineral promotes healthy cardiovascular and circulatory systems and helps alleviate migraine symptoms.
Zinc: You can use zinc to help guard against infection, like when you take a zinc supplement at the first sign of a cold. This mineral also helps the body repair damaged tissue.
THE MOBILE MYERS' IV EXPERIENCE
Mobile IV Nurses offer patients IV therapy with ease and convenience. We're on call every day, so you can always rely on us for fast and responsive treatment.
It's our goal to make you feel better as fast as possible with safe, effective IV therapy. Before providing you with an IV treatment, our team members check your vital signs, review your health history, and discuss your symptoms. They'll ensure you'll get a drip IV that brings you the best results.
Our team makes sure you're relaxed and comfortable before inserting the drip IV line into your arm. The entire IV therapy session only takes 30 to 45 minutes.
SCHEDULE A MYERS' COCKTAIL AT HOME OR THE OFFICE
IV therapy is ideal for when you need to rebound quickly from the symptoms that bring you down. Call on Mobile IV Nurses for high-quality service provided by experienced medical professionals who excel at patient care. Our Myers' Cocktail prices are affordable, and we use only the best ingredients in all of our IV treatments. See for yourself why the Myers' Cocktail is so popular. Contact us for an appointment today.