FAQs
1
What exactly is in a Myers Cocktail?
A Myers' Cocktail is one of the most common IV treatments used today. The base of every Myers' Cocktail is 1000 cc of sterile saline solution. Nutrients are added to the saline, including vitamin B12, B complex, vitamin C, glutathione, magnesium, and zinc. These are powerful ingredients. For example, B12 is known for improving energy levels and reducing migraine symptoms. Plus, the combination of these Myers' Cocktail ingredients means that the Myers' Cocktail can provide effective relief for symptoms such as headaches, tiredness, inflammation, muscle aches and pains, and nausea.
2
How does Myers Cocktail make you feel?
The Myers' Cocktail is such a popular IV treatment because it helps people to feel and perform their best. Many of our clients report feeling increased energy, less fatigue, and a general improvement in mood. It also relieves symptoms from various health conditions, including the common cold, the flu, and nasty hangovers. Our clients often report that the Myers' Cocktail benefits for 3 or 4 days afterward. Very rarely, there is pain, swelling, and scarring at the IV site in your arm. If these side effects are experienced, they are typically minor and easily treatable.
3
How quickly does Myers Cocktail work?
The Myers' Cocktail acts pretty quickly. For some symptoms, patients have experienced relief within minutes of receiving treatment with the Myers' Cocktail, greatly lessening the pain of an acute migraine. Most patients should feel the effects of the Myers' Cocktail by the time treatment has finished, as the hydrating saline solution and included nutrients start to work right away in your system. People with more severe symptoms and health issues might experience a different timeline for relief, though they'll likely start to feel better within a few hours of treatment as the Myers' Cocktail ingredients take effect.
4
Who needs a Myers Cocktail?
The best candidates for the Myers' Cocktail include those with chronic health conditions such as asthma, fatigue, and migraines. It's also very effective for athletes looking to improve their performance and recover from strenuous workouts. The treatment is commonly used by those recovering from illness and surgery as well. For some people, there may be some risks involved with receiving a Myers' Cocktail IV treatment. Those with kidney disease, high blood pressure, or a heart condition should avoid high-dose IV vitamin therapy like the Myers' Cocktail. All ingredients in the Myers' Cocktail are safe for pregnant and breastfeeding women but it never hurts to consult your doctor before considering IV treatment.
Schedule Your IV Therapy Today
At Mobile IV Nurses, we believe that hydration is the key to excellent health. We want all our patients to feel energized, alert, and optimally healthy — and we know that vitamin infusions are the best way to achieve that goal!
Take, for example, our Myers' Cocktail. This infusion is the perfect example of everything IV therapy can do for your body! Its proven combination of powerful ingredients makes the Myers' Cocktail IV the most popular choice for fighting fatigue and boosting energy.
But what is a Myers' Cocktail? Despite its unusual name, the Myers' Cocktail is not an alcoholic drink. It is actually an all-purpose solution for many health issues.
The Myers' IV CocktaiI contains a unique blend of vitamins, minerals, and electrolytes that rehydrate the body and provide symptom relief for a variety of ailments. Patients receive this blend through an infusion that sends these essential ingredients directly into the bloodstream, where it can quickly ease headaches, nausea, fatigue, and more.
In the past, patients could only receive this cocktail IV in clinical facilities like a hospital emergency room or doctor's office. With the growing popularity of IV therapy, this treatment is now widely available at IV bars, med spas, and other locations.
Mobile IV Nurses has made it even easier to get a Myers' Cocktail. We deliver IV therapy to you at the location of your choice! Our in-home service is especially helpful if you're too tired or sick to travel for treatment.
Enjoy the convenience of a Myers' Cocktail at home with our experienced medical professionals. Contact us today to get fast relief with a Myers' Cocktail IV.
Myers' Cocktail IV Package – $195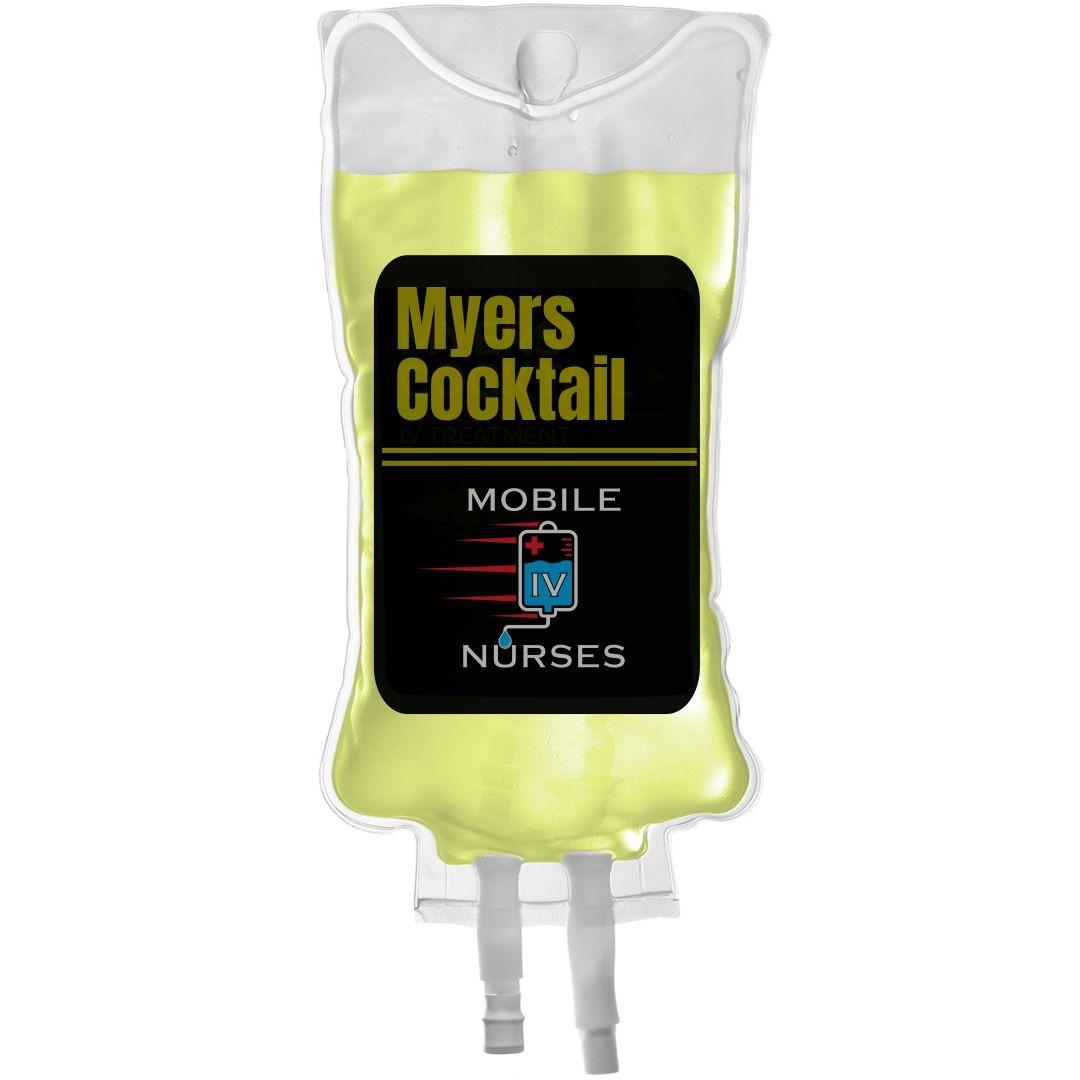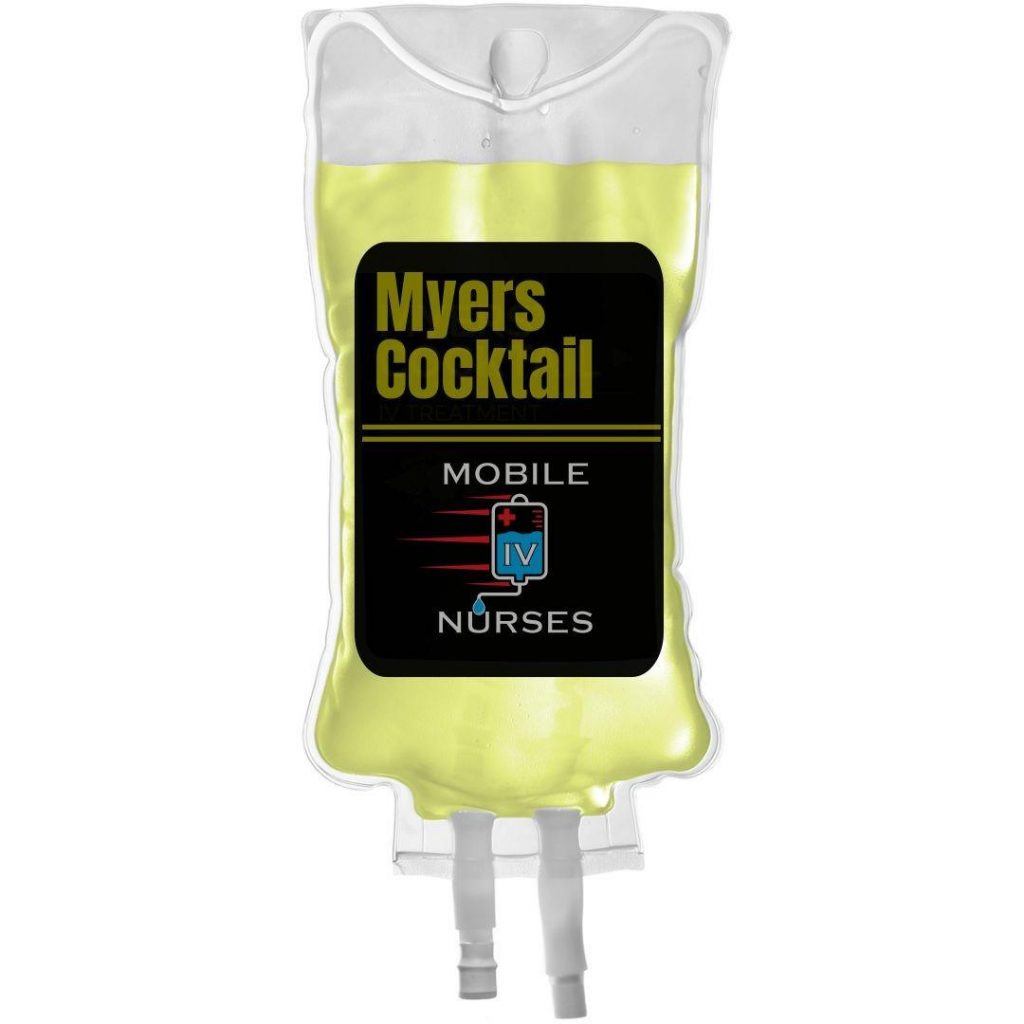 The Myer's Cocktail contains many of the vitamins, minerals, fluids, and electrolytes that your body needs for optimum health and wellness. This infusion can help you recover from a variety of conditions, from hangovers to muscle aches and everything in between!
The price of this package includes a travel fee for our team to come to your location. With many locations throughout the state, you're sure to find one near you. We offer IV therapy throughout Arizona and Florida.
Schedule Your Myers' Cocktail Today
Ultimate Myers' Cocktail – $295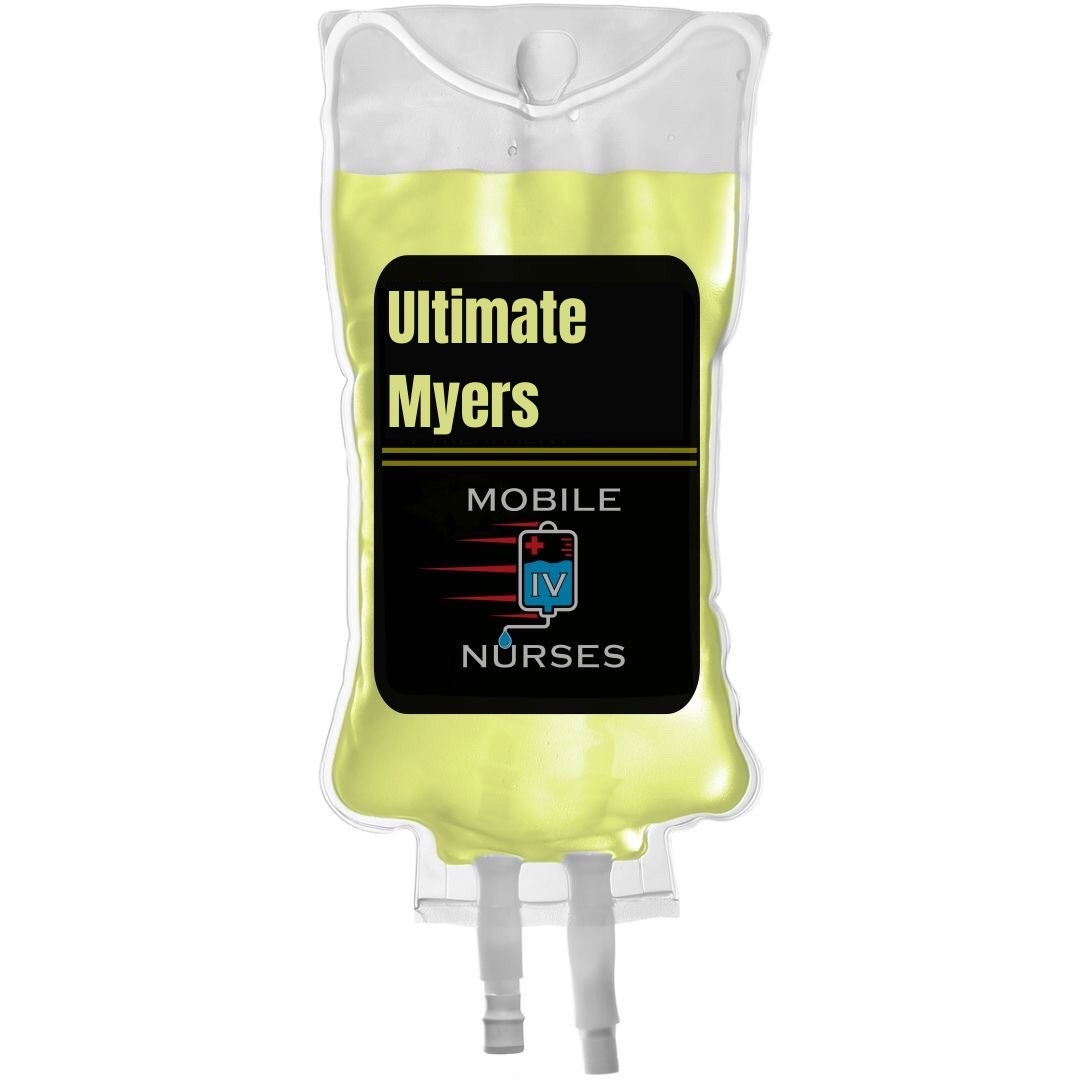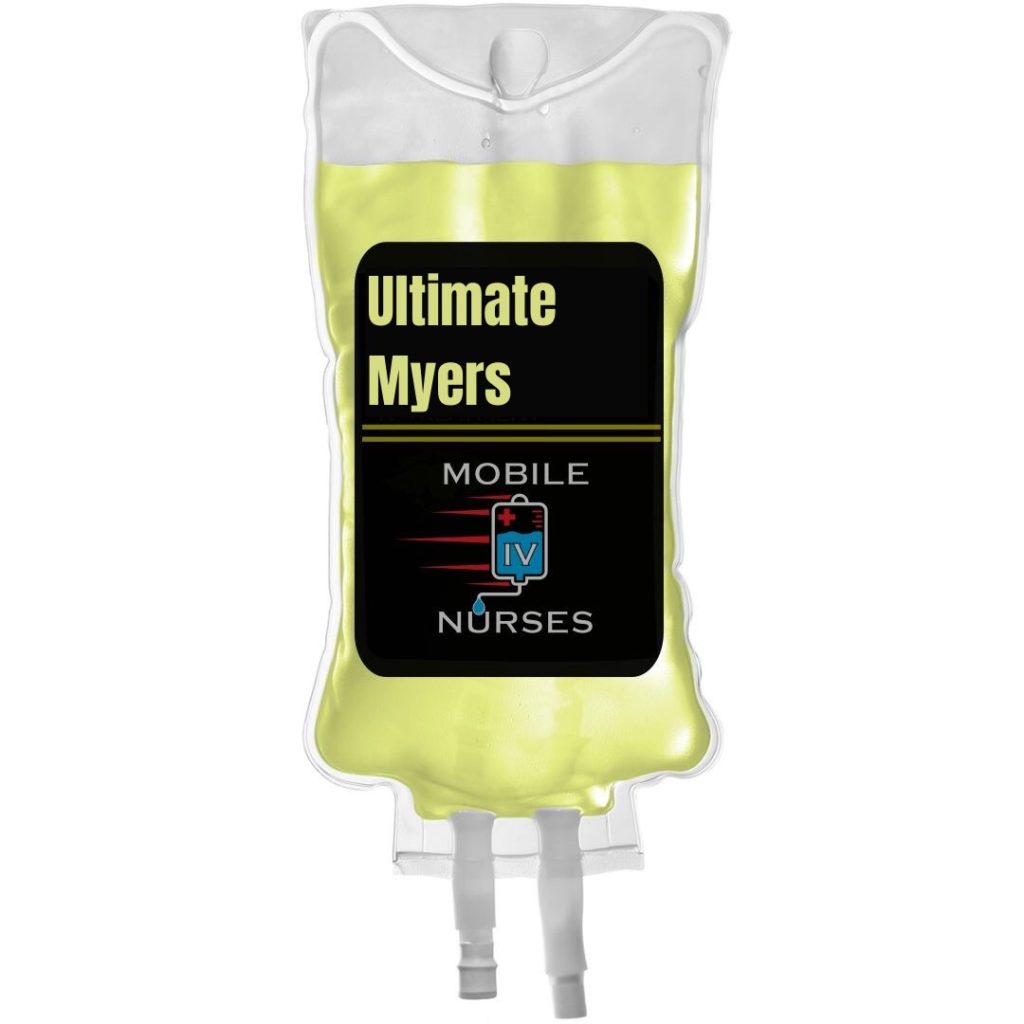 Ultimate Myers' Cocktail offers higher concentrations of vitamin C and glutathione than a typical Myers' Cocktail to help suppport your immune system, fight fatigue, and supply much-needed energy. The $295 package price includes a travel fee to your location.
Schedule the Ultimate Myers' Today
Ingredients in a Myers' Cocktail
A Myers' Cocktail contains a blend of the following ingredients:
Saline: Each IV contains 1,000cc of normal saline solution, which is basically sterile saltwater. The saline delivers nutrients to the body and replenishes fluids and electrolytes, which is ideal for addressing dehydration. You can order a Myers' Cocktail with either normal saline or Lactated Ringer's solution.
Vitamin B12: This vitamin is known for its ability to supply extra energy. B12 relieves fatigue and maintains blood cell and nerve health; it's also helpful for diminishing the intensity of migraine symptoms.
Vitamin B Complex: This group of B vitamins includes B1 (thiamine), B2 (riboflavin), B3 (niacin), B5 (pantothenic acid), and B6 (pyridoxine). B Complex assists with energy production and cellular metabolism. It also reduces fatigue.
Vitamin C: It's well known that this vitamin is a powerhouse that supports the immune system. However, vitamin C also supports healthy muscles, bones, and blood vessels. Vitamin C helps the body heal.
Glutathione: Your body needs antioxidants such as glutathione to remain healthy and strong. Antioxidants help prevent free radical damage that causes oxidative stress, which can harm the body at a cellular level. Glutathione may also benefit the immune system.
Magnesium: This mineral promotes healthy cardiovascular and circulatory systems. It can also help alleviate migraine symptoms, and some research suggests that it can help manage symptoms related to anxiety.
Zinc: You can use zinc to help guard against infection, like when you take a zinc supplement at the first sign of a cold. This mineral also helps the body repair damaged tissue.
When Do Medical Professionals Use a Myers' Cocktail?
The Myers' IV Cocktail is a science-backed treatment with a reputation for delivering measurable, effective results.
It was first developed by Dr. John Myers, who came up with the idea for an IV that could address a range of symptoms. His work was completed by Dr. Alan Gaby after Dr. Myers' death in 1984, and Dr. Gaby named the finished product in Myers's honor.
Doctors and medical staffers have used Myers' Cocktail IVs for various conditions, including:
Migraines
Asthma
Chronic fatigue syndrome
Fibromyalgia
Upper respiratory tract infections
Cardiovascular disease
Muscle spasms
Chronic sinus infections
Seasonal allergies
As an IV, the Myers' Cocktail also provides fluid replenishment that can help alleviate dehydration. This is the secret to the IV's success, as dehydration plays a key role in many of your most uncomfortable symptoms. This IV rapidly rehydrates your body, allowing you to shake off those symptoms and recover more quickly than with oral supplements.
Symptoms Alleviated with a Normal Myers' Cocktail
The Myers' Cocktail is one of the most favored IV treatments because it addresses a range of symptoms common to many health conditions. People use a Myers' Cocktail to help ease symptoms such as:
Headaches
Tiredness
Inflammation
Muscle aches, pains, and cramps
Nausea and vomiting
Low mood
Many people who have a Myers' Cocktail report a reduction in symptoms, as well as a decrease in fatigue so they can get back to their normal energy levels again.
Who Should Get a Myers' Cocktail IV Drip?
At Mobile IV Nurses, we use the Myers' Cocktail to help patients in Arizona & Florida suffering symptoms of:
Altitude sickness
Asthma symptoms
And much more!
Not sure if this infusion will be right for your health needs? Our team can help you determine if the Myers' Cocktail is right for you. Mobile IV Nurses is made up of registered nurses who can assess your symptoms and help you find the right blend of vitamins, minerals, and fluids to help you feel your best.
Contact us today to learn more and schedule your Myers' Cocktail at home, the office, or another convenient location.
What's It Like to Get a Myers' Cocktail at Home?
Mobile IV Nurses is the premier provider of Myers' Cocktail IV therapy in all the areas we serve throughout Arizona and Florida. Our experienced licensed professionals come to you for a safe, comfortable IV experience that brings the best results.
We offer our patients IV therapy with ease and convenience. We're on call every day, so you can always rely on us for fast and responsive treatment. It's our goal to help you feel better as soon as possible. If you want to buy a Myers' Cocktail online, we're your number one choice!
Our team members get to know you and your health goals so they can recommend the optimal treatment. These medical professionals review your health history and current symptoms, and they'll discuss what you hope to get out of IV therapy. Before treatment begins, our team members check your vital signs and ensure you're in a relaxed, comfortable position for the infusion.
After sterilizing the skin on your arm, our medical professional gently inserts a needle for the IV catheter. The catheter is connected to the IV bag line so the fluids can drip down and enter your bloodstream. The IV infusion lasts 45 to 60 minutes, and all you have to do is sit back and watch TV, read a book, or listen to music. After the IV catheter is removed, a small bandage is placed on your arm. That's it! You're free to continue on with your day.
Our mobile service allows you to skip the wait at an emergency room or urgent care center, which can be hard to manage if you're not feeling well. A Myers' Cocktail at home or the office is also ideal for wellness maintenance because you don't have to take time out of your busy schedule to go to a clinic for your infusion.
Available Add-Ons for Your Myers' Cocktail IV
While a Myers' IV works wonders on its own, you can also have our knowledgeable team members help you customize treatment. In addition to the vitamins and minerals in a Myer's Cocktail, Mobile IV Nurses can add ingredientsto any IV you receive. We can increase your vitamin levels to target specific symptoms or add medications that can help you recover even more quickly.
Our vitamin add-ins are $25 each and include the following:
B Complex
B12 (Methylcobalamin)
Glutathione
Magnesium
Zinc
Vitamin C
Taurine
Biotin
L-Carnitine
Amino Acids
We also offer intramuscular (IM) injections at $35 each:
Vitamin D3
Vitamin B12
Lipo C
Toradol
Zofran
The ingredients in a Myers' Cocktail infusion have been chosen for their effectiveness at symptom relief, but they also work well when other vitamins and medications are added to the drip bag. For instance, if you are struggling with nausea due to morning sickness or the flu, we may recommend adding Zofran to reduce your queasiness.
Our medication add-ins are available starting at $25 each and include the following:
Benadryl (diphenhydramine)
Zofran (ondansetron)
Toradol (ketorolac)
Reglan (metoclopramide)
Pepcid (famotidine)

Finally, we also offer NAD+ infusions for $1/mg based on dosage. This coenzyme plays a critical role in energy production, and it can help reduce fatigue. NAD+ also offers benefits like improved brain function, better mood, and anti-aging properties (so you can look as good as you feel)!
Mobile IV Nurses can customize all our IVs to suit your needs, and our team members take the time to talk with you and create an IV treatment that's unique to you. Best of all, Mobile IV Nurses offers several different packages for our IV therapy services. Our Myers' Cocktail pricing packages are affordable, and we use only the best ingredients in all of our IV treatments,so you can always be confident that you're giving your body the very best.
Schedule At-Home Myers' Cocktail IV Therapy
IV therapy is ideal when you need to rebound quickly from the symptoms that bring you down. Ready to give IV therapy a try? Just contact Mobile IV Nurses, and you'll receive high-quality service provided by experienced medical professionals who excel at patient care.
See for yourself why the Myers' Cocktail is so popular. Book an appointment today.
We are open from the hours of 8 a.m. to 8 p.m. for appointments with the Myers' Cocktail or any of our other IV drips. For those looking for after-hours appointments, we can often accommodate those requests if we have provider availability in your area. Give us a call about your early morning or late night appointment request, and we'll do our best to get you the treatment you need.