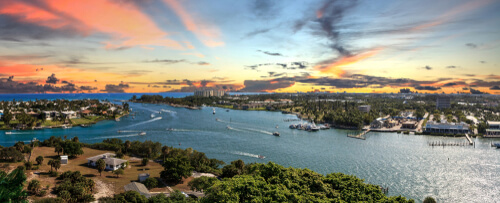 Jupiter is a coastal paradise and a wonderful place to live or visit. Savoring life here is easy when you feel your best, but everyone has times when they need a little recharge. Our mobile IV therapy in Jupiter provides a welcome boost when you're recovering from an illness or want to feel energized all year round.
Our professional nurses can come straight to you with the best IV therapy in Jupiter. Whether you're stuck at home sick, or holed up in your hotel room, we will come for a quick 45 to 60 minute IV treatment session. Before you know it, you'll be feeling right as rain, while also having plenty of time to tackle the rest of your day.
Mobile IV Nurses supplies IV therapy in Jupiter that rapidly rehydrates the body with vitamin-rich fluids. We'll make you feel better, faster. And best of all, you don't have to leave home to get effective IV treatment. Contact us today to try it for yourself.
The Best IV Service in Jupiter
In Jupiter, IV therapy is seamless with Mobile IV Nurses. We offer all of our clients: 
Expertise: We're medical professionals specializing in IV therapy. That singular focus gives you unparalleled patient care.
Convenience: Just contact us, and one of our team members will be at your home, hotel room, or office as soon as possible. All you need to do is sit back and relax.
Outstanding Quality: We've created a comprehensive lineup of IV drip bags formulated with medical-grade vitamins, minerals, supplements, and medications. Our IV treatments are designed to promote positive change for your health and well-being.
Cost Savings: All of our treatment packages are competitively priced to meet any budget. Our packages start as low as $100, allowing you to get the benefits of IV treatment without breaking the bank.
Personalization: You receive our undivided attention during your treatment. We monitor you throughout the IV infusion and treat you with warmth and friendliness every time. At Mobile IV Nurses, you can even customize your drip bag with the ingredients you want. The goal is to give you the best possible service
In Jupiter, IV therapy offers powerful wellness support when you get your infusion from Mobile IV Nurses. Schedule your appointment today. 
What Is Mobile IV Nurses?
You can't go wrong when you choose us for mobile IV therapy in Jupiter. Our team members are registered nurses with years of training and experience in IV treatment. We're committed to providing you with an exceptional experience that meets our high standards for safety and patient care. 
If you're interested in getting medical quality IV care from the comfort of your home or hotel room, look no further than mobile IV therapy in Jupiter from Mobile IV Nurses. We bring IV treatment that was once only available at a hospital or clinic.
What Can a Mobile IV Be Used For?
Mobile IV Nurses understands the versatility of IV therapy, so we offer a diverse range of treatments. Choose a Myers' Cocktail, renowned for its ability to fight fatigue and support a feeling of increased energy, or try an innovative NAD+ infusion to help slow the signs of aging. You can use IV therapy for:
Dehydration
Hangovers
Illnesses such as cold and flu
Nausea related to altitude sickness, morning sickness, food poisoning, or other concerns
Workout recovery
Chronic medical conditions such as migraines 
Anti-aging support
Weight-loss support
Contact us to get IV therapy targeted to your specific needs.
Recover after Visiting the Busch Wildlife Sanctuary
Animal and nature lovers know the Busch Wildlife Sanctuary is one of the top attractions in Jupiter. It's a beautiful oasis set among 6-plus acres of boardwalks and nature trails. These pathways give you an up-close glimpse of cypress wetlands, oak hammocks, and pine flatwoods. The nature center has many interactive exhibits, and you can meet birds, reptiles, and more during the popular Wildlife Encounters each day.
But spending too much time outdoors in the hot sun can be dehydrating, which can lead to symptoms such as headaches, fatigue, and dizziness. IV therapy provides rapid rehydration to bring your fluid levels back in balance and ease your symptoms. 
How Much Does a Mobile IV Cost in Jupiter?
We have affordable pricing packages, starting at $100. The basic package, called Purely Saline, can be customized with any ingredients on our list below. Most of our add-on supplements and medications are $25 each. 
Add-in vitamins include: 
Vitamin B12 (methylcobalamin)
B Complex vitamins: B1(thiamine), B2 (riboflavin), B3 (niacin), B5 (pantothenic acid), and B6 (pyridoxine)
Glutathione
Magnesium
Vitamin C
Zinc
Taurine
Add-in medications include: 
Reglan (metoclopramide)
Benadryl (diphenhydramine)
Pepcid (famotidine)
Toradol (ketorolac) ($35)
Zofran (ondansetron)
In addition to our add-in ingredients, we have a few other add-ins you might want to include in your IV package. You can order an additional liter of saline for only $50 and also include a number of injections, such as vitamin B12 and D3, and more for a cost starting at $35. If you have any questions along the way about which nutrients and medications are right for you, our nurses are here to help.
Enjoy personalized IV therapy in Jupiter that is fine-tuned to your particular health needs. Contact us to learn more about how we can customize your IV package to maximize your benefits.
How to Book a Mobile IV in Jupiter
Trust Mobile IV Nurses for superior IV therapy in Jupiter, Florida. Call (305) 458-5118, text us, email [email protected], or book an appointment online. Our mobile IV therapy is available from the hours of 8 a.m. to 8 p.m. We can even accommodate after-hours appointments in some markets, depending on nurse availability. If you have any questions, feel free to ask us over the phone or consult some of our FAQs below.
Can I get IV therapy at home?
Of course! You can get IV therapy at home, the office, a hotel room, or even your gym. We work with you to provide treatment at the location that's most convenient for you. We provide mobile IV therapy in Jupiter and the surrounding area, as well as many other locations in Florida. 
Why should I try at-home IV therapy?
It's a great option if you're not feeling well and don't have the strength to leave home for treatment. You may also enjoy the privacy of getting at-home IV infusions rather than traveling to an IV lounge where you may end up sharing a group treatment space. And it's easy to schedule an appointment with our daily service — we can come to you before or after work, or on the weekend for on-demand IV therapy in Jupiter.
How does mobile IV therapy work? Do I need to supply anything?
We bring all the equipment needed for a drip IV. You just need a space to sit and relax during the infusion. Prior to treatment, one of our medical professionals will review your health history and check your vital signs. Once the IV drip line is gently inserted into your arm, you can watch TV, read, or listen to music while our team member oversees the infusion. The entire appointment takes 45 to 60 minutes. And there's no downtime afterward, so you can go on with the rest of your day.
Is IV therapy covered by insurance?
No, we do not accept insurance for IV therapy services. However, you have several payment options to choose from, including cash, debit, credit card, Venmo, Zelle, Cash App, PayPal and Apple Pay. You also may be able to use your FSA or HSA for payment. We want to make it easy for you to get high-quality IV therapy in Jupiter, Florida.