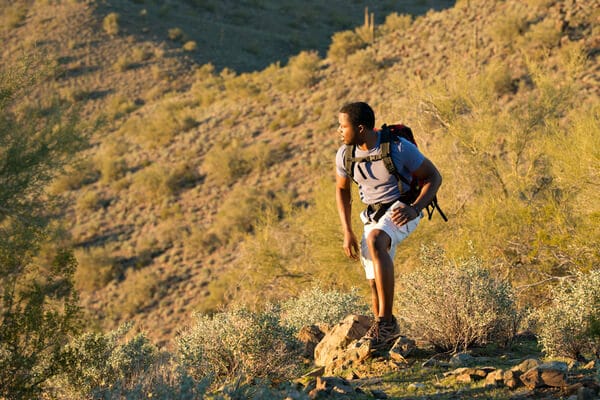 In the Heights: Using IVs for Altitude Sickness
Arizona has a lot of majestic landscapes to explore. The Grand Canyon, of course, but also the hiking trails of Humphreys Peak, the breathtaking vistas from Agassiz Peak, the red cliffs of Sedona, and popular Camelback Mountain. But it's hard to enjoy all the beauty of Arizona if you feel nauseous or short of breath.
It can be uncomfortable dealing with altitude sickness in Phoenix, Tucson, and other well-known destinations in the state. If you find yourself grappling with this issue, you want relief that will get you back up on your feet. IV therapy is an ideal solution because it provides fast, effective relief of altitude sickness symptoms.
What Causes Altitude Sickness?
The higher the elevation, the lower the available oxygen levels and air pressure. That makes you more likely to suffer from altitude sickness. Some factors that increase your risk:
Traveling too quickly from sea level to a high altitude
A history of altitude sickness during past travels
Not enough time spent getting used to the conditions at higher altitudes
Alcohol or substance use
Medical issues with your heart, lungs, or nervous system
Taking precautions to prevent altitude sickness can help. For instance, if you're going to scale Mount Lemmon near Tucson, altitude sickness may be avoidable if you ascend at a slow and steady pace, stay hydrated, and fuel yourself with healthy carbs. If you're not careful, the effects of altitude sickness can hit you hard.
Altitude Sickness Symptoms
In Arizona, altitude sickness is a common concern. Keep an eye out for the following indications that you might be sick:
Nausea or vomiting
Feeling lightheaded or dizzy
Lack of hunger or appetite
Elevated heart rate
Shortness of breath, especially during physical activity
If you don't treat altitude sickness in its early stages, it can get progressively worse, and so can the symptoms. They include:
Brain fogginess
A cough that may produce blood
A tight feeling in the chest
A bluish tint to the skin
Loss of balance
Shortness of breath
Fluid in the lungs
These severe symptoms may require a doctor's visit or a trip to the hospital emergency room. Don't reach that point; address altitude sickness symptoms when they're mild so you feel better. If you find yourself in locations such as Sedona, the Grand Canyon National Park, or Phoenix, altitude sickness relief is close at hand with mobile IV treatment.
Altitude Sickness Treatment
Feeling dizzy while rock climbing or hiking? The most important thing to do is stop and then safely get to a lower elevation, and take care not to descend too quickly. Once you're safely down, take time to rest; if you're struggling to breathe, you may need supplemental oxygen until you can lower your respiratory rate. It may take up to 36 hours for symptoms to subside.
If it's hard to shake those symptoms, and you're worried they'll get worse, try IV therapy. An IV for altitude sickness can bring much-needed relief. 
IV fluids are rich in vitamins, minerals, and electrolytes the body needs to function properly. The fluids get to work immediately because they are infused into the bloodstream. It may take longer to feel relief from typical oral medications used for altitude sickness because they have to travel through the digestive system before being absorbed into the blood. This is one reason why IV therapy is growing in popularity as a treatment used for several health conditions, including altitude sickness. 
Mobile IV Nurses is a trusted IV service provider in Arizona. We specialize in mobile IV therapy, which means we perform treatments in your home, hotel room, office, or other convenient location. Registered nurses and paramedics perform all treatments, adhering to the highest standards for safety and patient care.
When you schedule altitude sickness IV therapy with us, we'll talk to you about your symptoms and health history so we can find the right treatment for you. In many cases, we recommend the Myers' Cocktail. This popular IV drip counteracts the symptoms of altitude sickness by increasing energy and eliminating fatigue. This is achieved with a precise combination of Vitamin B12, B Complex vitamins, vitamin C, magnesium, and the antioxidant glutathione. Struggling with the queasiness that's all too common at high altitude? You can add an anti-nausea medication such as Zofran to help you feel better. 
Once you choose an IV treatment, the Mobile IV Nurses medical professional will gently insert a needle into your arm and attach it to a tube leading to the drip IV bag. You just need to relax and be comfortable during the infusion; we'll monitor you carefully during treatment to ensure everything goes smoothly. When the IV session is over—typically after 30 to 45 minutes—the needle is removed and a bandage is placed on your arm. Some people report feeling a noticeable difference in their symptoms right away. We recommend that you take it easy and regain your strength until you feel stronger.
Get Effective Treatment with Mobile IV Nurses
Do you feel low at high elevations? Contact Mobile IV Nurses for help. From Flagstaff to Sedona, Arizona, altitude sickness doesn't stand a chance because we have several locations throughout the state to treat our patients. We also offer various pricing packages that meet every need and budget. Our trusted, reliable service makes us the leader for mobile IV therapy in Arizona. 

If you want the best possible treatment for altitude sickness, call on Mobile IV Nurses. Schedule an appointment with us today so you can get back to exploring and enjoying the great outdoors.