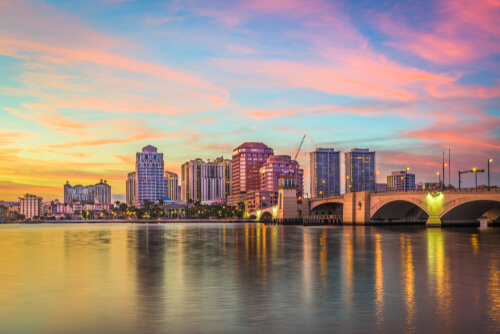 It's easy to fill your days in West Palm Beach with shopping, boating, scuba diving, and so much more. Nights are the same, thanks to the many attractive options for fine dining, live music, and the performing arts. Enjoying it all is easy when you're feeling your best, and mobile IV therapy in West Palm Beach helps you maintain a vibrant lifestyle.
Mobile IV Nurses specializes in IV treatment that offers potent effectiveness as vitamin-rich fluids are administered into the bloodstream. Contact us today to book an appointment for IV therapy in West Palm Beach or any of our other service areas throughout Florida. 
The Best IV Service in West Palm Beach
We provide exceptional service for each and every client. Our commitment elevates us above the rest, making Mobile IV Nurses your ideal choice in West Palm Beach for IV therapy. We give you:
Convenience: There's no waiting for treatment at a hospital emergency room or urgent care center with our mobile service. We provide IV treatment at your home, office, or hotel room.
An Experienced Team: Everyone at Mobile IV Nurses has a wealth of medical knowledge. Their expertise in IV therapy ensures you'll have a safe, comfortable experience designed to give you optimal results.
Quality: The vitamins, minerals, supplements, and medications we use in our drip bags are medical-grade, like the kind you'd find at a hospital or doctor's office. 
Affordability: Our premium-quality ingredients don't come with premium fees. All of our IV treatments are reasonably priced so they fit your budget.
Personalized Care: Every client is important to us. We will treat you with warmth and dignity, taking the time to learn about your health history and IV therapy goals. We'll even help you customize your treatment for maximum effectiveness.
Make an appointment with the leader in IV therapy in West Palm Beach, Florida. Contact Mobile IV Nurses today.
What Is Mobile IV Nurses?
You're in good hands with the Mobile IV Nurses team. We hire registered nurses to perform all IV treatments while following the highest standards for safety. Their goal is to provide you with the best mobile IV therapy in West Palm Beach. 
What sets Mobile IV Nurses apart from our competitors? In a nutshell, it's our dedication to safety, quality, and stellar service.The Mobile IV Nurses team consists of more than 100 registered nurses from all walks of life. All of our team members are IV pros and can educate you on the best treatment options for your particular health goals. Additionally, their diverse backgrounds and many years of experience help us serve our customers more thoroughly.
Apex Medical Direction, our medical direction group, specializes in IV therapy, and our doctors and advising board provide our nurses with protocols and standards of care that keep your needs in mind. 
Our medical professionals care deeply about every patient, so we are committed to providing you with the highest level of service. With in-home IV therapy, we build genuine, long-lasting relationships with our customers. As an innovative wellness treatment, IV therapy is revolutionizing the experience of a medical intervention by making it comfortable, fast, efficient, and effective. Many of our IVs are customized onsite. 
Mobile IV Therapy in West Palm Beach Changes Lives 
Many patients say that in-home IV therapy has changed their lives. We've seen the difference in helping patients overcome a minor or chronic illness in the comfort of their own homes or places of work. The convenience of IV therapy is truly invaluable, and the gratitude we receive from patients and their families makes it all worth our time and effort!
You will not find a better IV hydration service in Florida. Trust Mobile IV Nurses for outstanding West Palm Beach IV therapy to feel better faster!
Did we mention Mobile IV Nurses is owned and operated by veterans? Check out our 600+ 5-star reviews! Patients praise our nurses and their professionalism and caring. Also, don't forget to ask about our Group Discounts.
What Can a Mobile IV Be Used For?
You'll find the perfect IV for you, no matter the health issue. We've developed a comprehensive treatment menu, ranging from the popular Myers' Cocktail to cutting-edge NAD+ therapy that promotes vitality, both mentally and physically. Support your overall wellness or get much-needed symptom relief with IV therapy. Try it for:
Dehydration
Cold, flu, and illnesses
Hangovers
Nausea associated with morning sickness, altitude sickness, or other issues
Workout recovery 
Anti-aging support
Weight-loss support
Chronic medical conditions such as migraines
Jet lag
And much more!
In West Palm Beach, IV therapy is effective and efficient. Rely on Mobile IV Nurses to guide you toward the best treatment for optimizing your health.
Recover after Shopping at the Palm Beach Outlets
Savvy shoppers know that the best buys in town can be found at the Palm Beach Outlets. This shopping center has it all, from Adidas to Zumiez. These stores offer brand names at incredible deals, and frequent sales and promotional events bring the prices even lower. The outlet shops are open into the evenings every day of the week, so there's plenty of time to go on a shopping spree.
But be careful not to shop 'til you drop! You may get overheated if you spend hours under the sun at this outdoor mall, especially if you don't take the time to hydrate in between purchases. Without enough fluids in your system, it's easy to become dehydrated. If you start experiencing fatigue, lightheadedness, or headaches, you may need to rehydrate (and do it quickly, before your symptoms get worse).
Prolonged dehydration may not be resolved simply by drinking a glass or two of water. That's when you need the vitamins and electrolytes provided by IV fluids. Our IV therapy in West Palm Beach can start working quickly because you get maximum absorption when delivering fluids through the bloodstream during an infusion. On the other hand, oral hydration drinks or solutions must first travel through the digestive system and lose potency along the way. Alleviate the symptoms of dehydration or any other health issues with our team at Mobile IV Nurses.
How Much Does a Mobile IV Cost in West Palm Beach?
Our affordable pricing packages start at $100, and additional supplements or medications are available starting at only $25 each. They include:
Add-in vitamins:
B Complex: vitamins B1 (thiamine), B2 (riboflavin), B3 (niacin), B5 (pantothenic acid), and B6 (pyridoxine)
Vitamin B12 (methylcobalamin)
Magnesium
Glutathione
Zinc
Vitamin C
Biotin
L-Carnitine
Amino Acids
Taurine
Add-in medications: 
Reglan (metoclopramide)
Toradol (ketorolac)
Zofran (ondansetron)
Benadryl (diphenhydramine)
Pepcid (famotidine)
How to Book a Mobile IV in West Palm Beach
Want to try IV therapy in West Palm Beach, Florida? Contact Mobile IV Nurses today! Call us at (305) 458-5118, text us, email us at [email protected], or book an appointment online.
Is IV therapy worth the money?
Definitely! There's no greater investment than in your health and wellness. And while IV therapy may sound expensive, that's not the case with Mobile IV Nurses. Our treatment menu boasts reasonable fees, and we also don't charge extra to come to your location for treatment. We accept numerous flexible payment options, such as cash, credit card, debit card, Venmo, Zelle, Cash App, Paypal, and Apple Pay. Additionally, our HSA or FSA may also be able to cover IV therapy. Contact us to learn more. 
Can IV therapy be done at home?
Yes! Our team members are experts at mobile IV therapy, and it's not limited to the home—you can also schedule an infusion at your office, hotel room, gym, or other convenient location. We provide all the necessary supplies for at-home IV therapy. All you need is a comfortable place to relax during your infusion session and let our professional nurses handle the rest. We make it easy to get IV therapy in West Palm Beach.
When can I get IV therapy?
We're on call from 8 a.m. to 8 p.m. every day. 24-hour service may also be provided, depending on nurse availability.