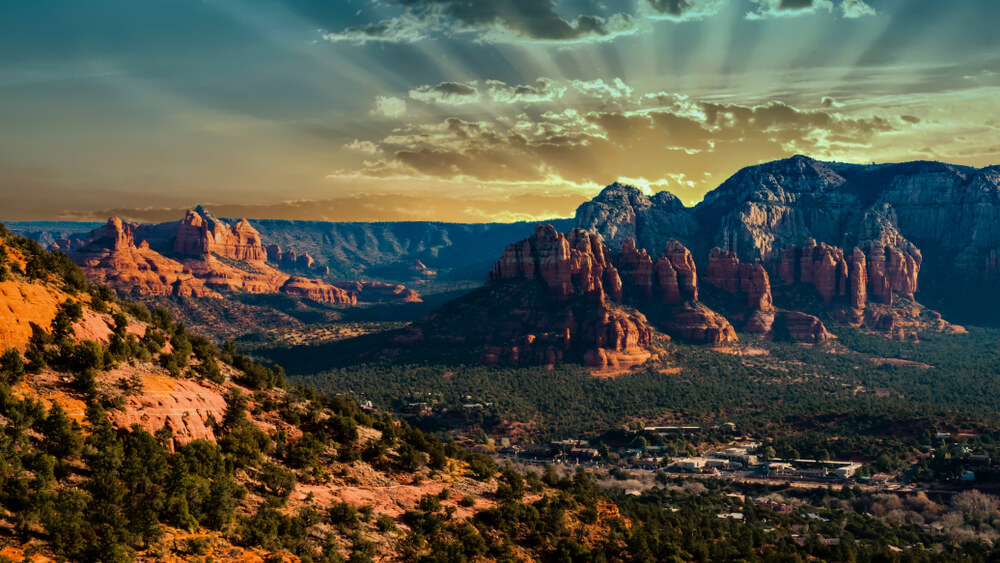 Here in Sedona, we are all about health and wellness. This city has long been hailed as a wellness mecca as people all over the world come to experience the Sedona vortexes.
At Mobile IV Nurses, we're doing our part to keep Arizonans healthy, too. And it's all thanks to our mobile IV therapy in Sedona, AZ.
IV therapy is incredibly versatile. Use a drip bag to pre-empt altitude sickness before summiting Wilson Mountain, recover from dehydration after conquering the Cathedral Rock or Bear Mountain trails, or supplement your wellness treatments at one of Sedona's many day spas and resorts. In Sedona, AZ, mobile IVs will have you feeling your best!
The Best IV Service in Sedona
Mobile IV Nurses offers rehydration IV therapy in Sedona, as well as other areas we serve around the Grand Canyon State. These IVs contain various "cocktails" of vitamins, minerals and other powerful ingredients — not to mention plenty of fluids. These fluids drip directly into your bloodstream, where your body can readily absorb them and recover from many of your most uncomfortable health symptoms. 
The whole process is quick and easy (most patients see results soon after the 45- to 60-minute infusion session). And best of all, you can get the revitalizing benefits of IV therapy without leaving your home. Mobile IV Nurses specializes in mobile IV therapy, so we'll bring the good stuff straight to your house, office, hotel or other location you request.
What Can a Mobile IV Be Used For?
Our patients have used IV treatments in Sedona to manage several health conditions, from chronic migraines to the common cold. Are you struggling with regular headaches? An IV infusion can help with that. Are you hungover from your night out with friends? We can get you back on your feet. IVs can even help relieve nausea symptoms for people suffering from food poisoning or morning sickness. 
And what about when you're feeling fine? A little IV therapy can help you take your health to the next level. You can use IV therapy in Sedona to recover from strenuous workouts more quickly. But an IV can also support your immune system when flu season approaches. And you can even get all-natural energy support that helps you tackle your to-do list.
You can use our IV therapy in Sedona for:
Dehydration
Illness (colds, flu, food poisoning, etc.)
Nausea
Headaches or migraine
Hangovers
Altitude sickness
Morning sickness
Jet lag
Allergies
Chronic medical conditions (asthma, chronic fatigue syndrome, etc.)
Anti-aging and energy support
And more!
No matter what's ailing you, our registered nurses and paramedics at Mobile IV Nurses can help you feel good as new. Support your well-being with exceptional IV therapy in Sedona, AZ.
IV Therapy for Hangovers
Your hangover symptoms can make you sensitive to noise and light while giving you a massive headache. When you need a way to reduce the pain and recover after a fun party quickly, consider IV therapy.
An IV drip from Mobile IV Nurses like the Myers' Cocktail has all the vitamins and antioxidants you need to assist your recovery and help you start feeling better. This solution also supports your immune system, enabling it to regain strength so that you can continue your day.
Dehydration IV Treatment
If you are frequently dehydrated, drinking water may not work as fast as you want it to when you need electrolytes, minerals and fluids as soon as possible. One of the quickest ways to ensure you get the necessary fluids to support your hydration journey is by using an IV drip full of the rejuvenating substances you need. Mobile IV Nurses offers IV hydration in Sedona to help residents stay hydrated.
Migraine and Headache IV Therapy
You don't have to suffer from pounding migraines and headaches and the other symptoms that come with them — with our IV therapy in Sedona, you can enjoy a remedy that helps you get relief. The Myers' Cocktail has essential ingredients that lessen fatigue, boost energy levels and relieve pain. If your migraine symptoms are overbearing, take advantage of the mobile IV therapy services Mobile IV Nurses offers. We ensure you get IV treatment that relieves your pain, whether you're at home or at work.
IV Treatment for Food Poisoning
Food poisoning makes it difficult to carry on with your everyday activities because it messes with your stomach, making you sick. Even when you're doing everything you can to feel better while recovering, your symptoms might make getting the proper nutrients your body needs difficult. To ensure you can receive the vitamins, electrolytes and minerals that will support your healing, an IV drip is an excellent solution. With this treatment, you'll get the nutrients you need even if you have difficulty eating.
Morning Sickness IV Therapy
Whether you suffer from morning sickness in the first trimester or are looking for another way to get all the vitamins you and your baby need, IV vitamin therapy in Sedona from Mobile IV Nurses is your solution. We come to you at your convenience, so you can get treatment in the comfort of your home. With an IV drip, you can receive vitamins, electrolytes and minerals that help increase your energy and mitigate your morning sickness symptoms.
How Much Does a Mobile IV Cost in Sedona?
Mobile IV Nurses offers several different packages for our mobile IV therapy in Sedona. With our large selection of IV cocktails, you can always find the infusion that's right for your symptoms and your wallet. 
And if you want to add extra potency to your IV, you can add ingredients like vitamin B12 (great for energy and brain health), vitamin C (for immune support), magnesium (ideal for managing anxiety) and many others. These add-ins are easy to create a specialized IV for your unique health needs.
B Complex vitamins (B1, B2, B3, B5 and B6)
Methylcobalamin (Vitamin B12)
Glutathione
Magnesium
Zinc
Vitamin C
Taurine
Biotin
Amino Acid Blend
L-Carnitine
Our add-in medications:
Toradol (ketorolac)
Zofran (ondansetron)
Benadryl (diphenhydramine)
Pepcid (famotidine)
Reglan (metoclopramide)
Additionally, one of our most innovative add-ins is the nicotinamide adenine dinucleotide, or NAD+. This revitalizing coenzyme is often used to support mood, brain function and anti-aging efforts. NAD+ pricing varies based on what you add and how you add it. For instance, we can add as low as 50 milligrams into an intramuscular (IM) shot.
In addition to mobile IV therapy in Sedona, we also offer intramuscular (IM) injections, which are another great way to get vitamins and minerals to the bloodstream.
Vitamin B12
Vitamin D3
Lipo C
Toradol
Zofran
Learn more about all our effective IV infusions in Sedona, and how they can help you!
How to Book a Mobile IV in Sedona
Health and wellness is all about treating your body with care — right down to the cellular level. Book an appointment with Mobile IV Nurses today and give your body what it needs to be truly healthy and strong.
When can I get a mobile IV?
In Sedona, AZ, mobile IVs are available every day with Mobile IV Nurses. We work from 8 a.m. to 8 p.m. daily — yes, you can get an infusion at night or on the weekends! Give us a call or text to see how we can help you.
Is IV therapy worth it?
Of course! In Sedona, IV therapy is used by many people as a valuable source of symptom relief or as a regular part of their wellness regimen. These infusions deliver powerful vitamins and minerals to support your well-being and help you attain an optimal state of health. We understand how important your health is, and we've priced our IV packages so they're financially within reach.
How often should I get an infusion?
That depends on your current health condition and your reason for getting IV therapy, among other factors. You may need an infusion only during those times when you feel sick. If you have a chronic condition such as migraines, you may choose to get IV therapy anytime you have a flare-up to help ease symptoms. And regular IV infusions — about every two weeks or so — are an ideal way to consistently supply your body with energizing vitamins and minerals. We can help you find the schedule that works for you.