With roughly 300 days of sunshine a year, Liberty is a mecca for outdoor enthusiasts. Residents and visitors alike flock to Skyline Regional Park, the Desert Botanical Garden, and the Verrado Golf Club. However, all that fun under the sun can take a toll on the body. If you need to rehydrate, re-energize, and recover, try IV therapy in Liberty, AZ.
IV vitamin fusions are growing in popularity every day, especially among athletes, high performers, and those who want to take a proactive approach to their health. An IV delivers a powerful mixture of hydrating saline, vitamins, minerals, and (sometimes, when needed) medication, directly into the customer's bloodstream. Unlike oral vitamins that go through the digestive tract, an IV infusion in Liberty goes directly into the bloodstream for optimal, immediate absorption. That means you can enjoy the full health benefits of your IV.
The Best IV Service in Liberty, AZ
Interested in trying IV therapy in Liberty, AZ? You'll find no better service than Mobile IV Nurses. Our team of registered nurses and certified paramedics is standing by to give you a completely customized IV therapy experience.
We specialize in mobile IV therapy in Liberty. In other words, an experienced member of our team will arrive at your home, office, or hotel for one purpose — administering your IV therapy. When you're feeling under the weather or fatigued, the last thing you want to do is to drive to a medical office and sit in a waiting room until you can get your treatment.
With mobile IV therapy in Liberty, we come to you.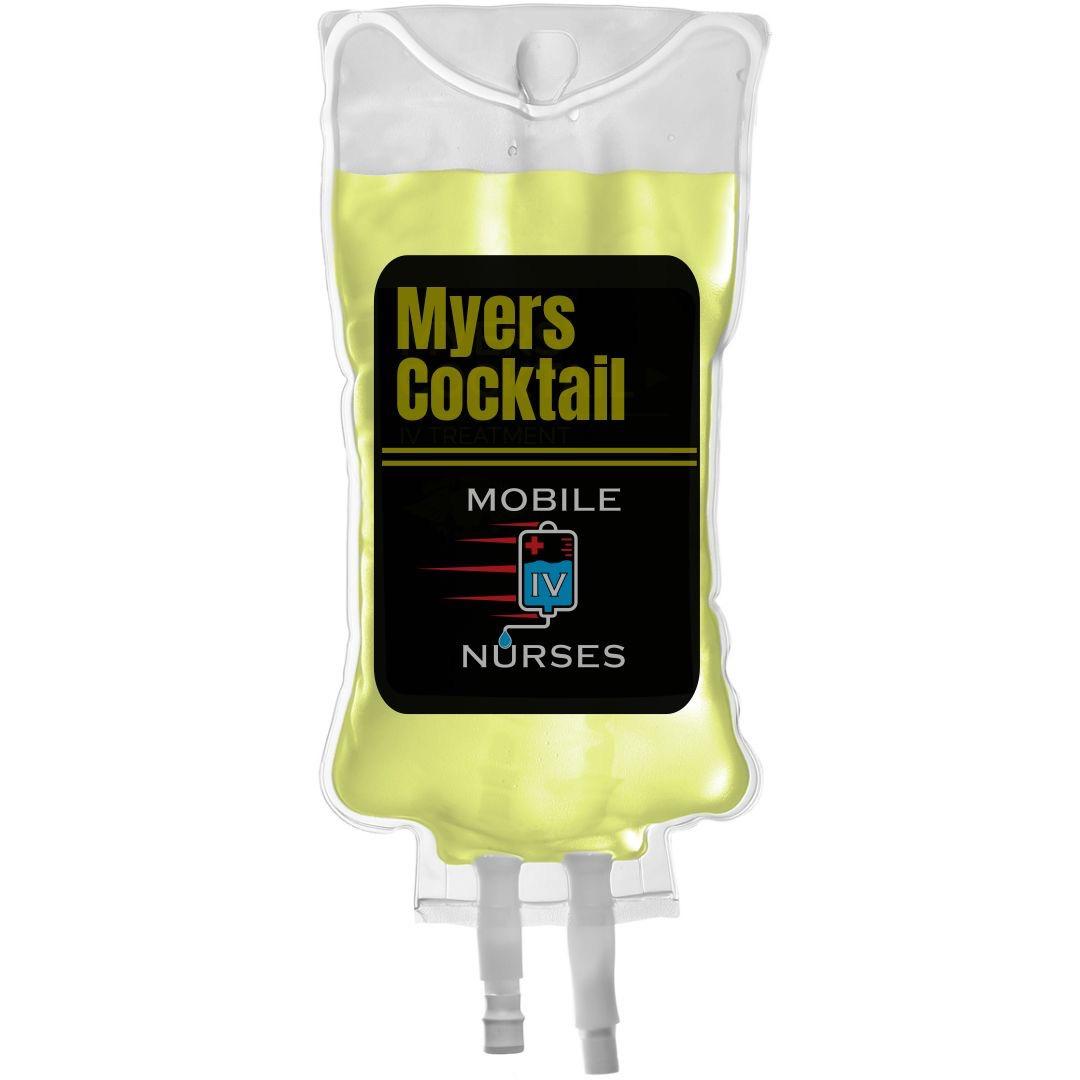 MYERS' COCKTAIL - $ 195
Our Best Selling Hydration Package.
Features 6 of our highest-impact vitamins, minerals, antioxidants, and hydration, can help with skin health, and aid your weight loss regimen. Supports your Immune System and can give you a burst of energy to stop you from feeling sluggish. Recommended for everything from hangovers to fatigue, the flu, recovery from an athletic event, or a chronic illness.
Purposes of Intravenous (IV) Therapy
Exactly what can IV infusions in Liberty be used for? The answer, broadly speaking, is that a high-powered concentration of vitamins and hydrating saline can help you feel more energized while supporting your immune health and helping you overcome fatigue, anxiety, or recent illnesses.
Many of our different packages also include proven medications, which can help you feel better if you suffer from allergies, nausea, headaches, and other unpleasant conditions.
Here is just a small selection of symptoms IV therapy can help address:
We offer a wide range of packages, each with a different combination of vitamins, minerals, and medications (if needed). Some of our packages are ideal for helping you recover after partying hard over the weekend in Liberty. Other packages can help you recover after a long hike on the Mesquite Canyon Loop Trail. Looking for assistance with your weight loss plan? We've got a formula for that, too!
If you aren't sure which IV therapy in Liberty, AZ is right for you, your IV technician can help you choose the right option for your goals, symptoms, and budget.
Fastest Mobile IV Therapy in Liberty
When you need relief, you want it fast. At Mobile IV Nurses, we get it. That's why our team is ready to provide you with IV treatments in Liberty as soon as you place your order. Depending on your location, we can often arrive on your doorstep within an hour of you requesting an IV.
We believe we offer the fastest mobile IV therapy in Liberty and the surrounding areas. Put us to the test!
How Much Does a Mobile IV Cost in Liberty, AZ?
Supporting your health shouldn't break the bank. At least, that's what we believe. That's why we've worked hard to make our IV therapy in Liberty, AZ, affordable while also making sure to use the highest quality ingredients and work with experienced, IV technicians.
For those on a budget, our Bronze Package is an excellent starting point. Priced at just $125, this IV infusion will give you a healthy dose of B vitamins and hydrating saline. One of our most popular IVs is our Myers' Cocktail, which provides an excellent mixture of vitamins and minerals to support many different health goals. The Myers' Cocktail rings out at $195. You can also upgrade to the Ultimate Myers' Cocktail for $295 if you're looking for an extra pick-me-up of Vitamin C and Glutathione (a powerful antioxidant).
Finally, we also offer add-in ingredients. Tell your technician about your goals and symptoms, and they can recommend add-in options when appropriate. When appropriate, the IV technicians are able to add the ingredients you want for a completely personalized formula. Most add-ins start at $25.
Make an Appointment Today
When it comes to IV therapy in Liberty, AZ, the choice is clear. Mobile IV Nurses is here to help you feel your best. Click the green button at the top of our website to make an appointment now. You can ask for immediate service or schedule an appointment if you want treatment before or after a big event.
We are proud to serve Liberty, Arizona. Take a look at all the other areas we serve.
Book an appointment today.
IV Therapy In Liberty, AZ Frequently Asked Questions
Intravenous (IV) therapy is a treatment in which a solution is delivered directly into the bloodstream. Mobile IV Nurses use IV therapy to give our customers infusions of vitamins, minerals, and medications (when necessary).
2
What can I expect from my IV therapy appointment?
Every IV therapy company is different, but at IV Mobile Nurses, we will send a registered nurse or certified paramedic to your location. They will review your health history and perform a medical assessment before beginning the IV therapy to make sure you are a good candidate for the treatment. In most cases, the IV will go into your hand or arm. The technician will then monitor you throughout the treatment. We encourage you to ask questions and the technician can help you determine which IV package is right for you.
3
How long does IV therapy take?
Typically, the actual IV therapy process takes 45 to 60 minutes. The entire time process, includes your health history and medical assessment, as well as the set up of all equipment. They will also take time to answer any questions you have before starting the therapy. All in all, most sessions take around an hour from start to finish.