Not feeling quite yourself? IV therapy might be exactly the solution you've been searching for. Mobile IV Nurses offers high-quality mobile IV therapy in Arrowhead Ranch that can be enjoyed from the comfort and safety of your own home. For fighting off a cold and flu and boosting your general health, there isn't a better option than a quick IV treatment that works around your busy schedule.
If you're feeling sick, the last thing you want to do is go to a clinic, sit in a waiting room, and take hours out of your day waiting for treatment. Our IV treatment offers all the benefits and expertise that come with clinic care without any of the headaches (e.g., setting up an appointment, leaving your house, or waiting for care).
Clients have used IV therapy to deal with a range of adverse symptoms. Some of our patients come in for anxiety and depression, using IV therapy to help stabilize their mood. Others use IV therapy when they're dealing with a bad hangover, alleviating the dehydration, headaches, and nausea that come along with it.
IV therapy can also be effective for cold and flu symptoms, as well as for long-term benefits to general health. If you're in search of the best IV therapy in Arrowhead Ranch, AZ, look no further than Mobile IV Nurses and our staff of highly-trained registered nurses and paramedics.
The Best IV Service in Arrowhead Ranch
Mobile IV Nurses offers premium IV therapy for those looking to improve their health, conquer their symptoms, and generally improve their life. Our IV service is quick, stress-free, and offers you a variety of IV packages to choose from. From the hydrating power of a simple saline solution to a superpowered IV drip with vitamin C, glutathione, vitamin B12, and more, we offer you customized IVs specifically suited for you.
Our service has been consistently rated among the best mobile IV services in Arizona. The reason for this is our commitment to providing high-quality IV solutions, effective vitamins, minerals, supplements, and some medications. Our dedication to customer service will always go above and beyond your expectations. All of this can be attributed to our amazing staff, which is committed to providing exceptional IV administration for every client we see.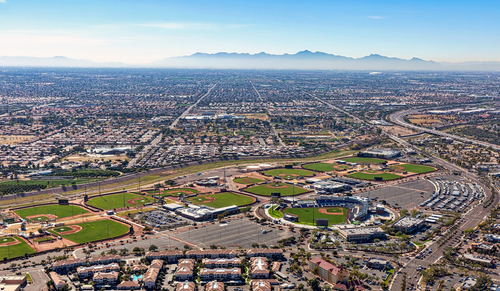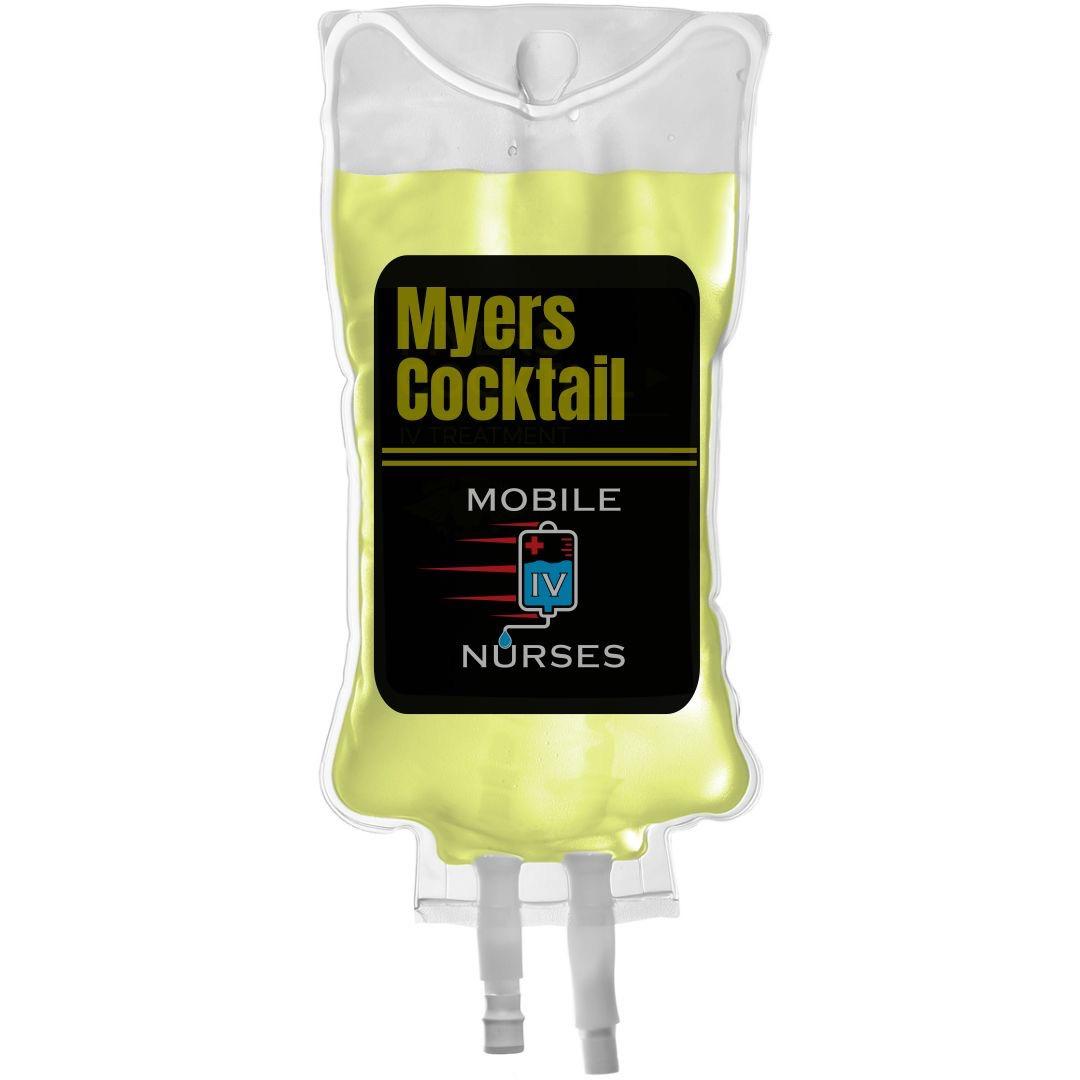 MYERS' COCKTAIL - $ 195
Our Best Selling Hydration Package.
Features 6 of our highest-impact vitamins, minerals, antioxidants, and hydration, can help with skin health, and aid your weight loss regimen. Supports your Immune System and can give you a burst of energy to stop you from feeling sluggish. Recommended for everything from hangovers to fatigue, the flu, recovery from an athletic event, or a chronic illness.
What Is Mobile IV Nurses?
Mobile IV Nurses started with a mission. Our founders saw the many benefits of IV therapy and took the opportunity to bring those benefits straight to people's homes. We offer the safest, quickest IV therapy in the Arrowhead Ranch, AZ, area. It takes only 45 to 60 minutes to complete our mobile IV therapy, allowing you to get back to your busy day and spend more time with friends and family.
What Can a Mobile IV Be Used For?
Whether you're looking for a general health boost or looking to fight off your current symptoms, we've got an IV solution for you.
For many of our clients, getting quick relief from feeling ill is a big reason they contact Mobile IV Nurses. All sorts of symptoms can be addressed with a quick IV treatment, including headaches and bad migraines, cold and flu symptoms, such as body aches and sore throat, and even mood problems like anxiety and depression.
To address these different types of maladies, we offer a wide selection of IV packages, ranging from simple saline solutions to IV mixtures that include superpowered doses of supplements such as vitamin C, vitamin B12, the antioxidant glutathione, and more. Our medical professionals can help recommend the best IV package for you, depending on what your symptoms and particular goals for IV therapy are.
A popular IV infusion in Arrowhead Ranch is the Myers' Cocktail, which has been very effective in treating fatigue, body aches, cold and flu symptoms, and much more. To learn more, take a look at the list of symptoms that IV therapy can help address, and then let us know if you have any questions about the right IV cocktail for you.
How Much Does a Mobile IV Cost in Arrowhead Ranch?
An Arrowhead Ranch IV package can range from $100 to $395, which includes all travel and delivery fees. The final cost that you will pay will change depending on the IV package you select, as well any additional add-ins you choose to include. You can also customize any IV cocktail with specific add-in ingredients you want to include. For example, you can start with our $100 Purely Saline package and then add vitamins, minerals, supplements, or medications as you and your provider see fit.

If you want to pick and choose your own IV ingredients, our list of add-in ingredients (supplements and medications) starting at just $25 each:


B Complex
Vitamin B12 (methylcobalamin)
Glutathione
Magnesium
Zinc
Vitamin C
Taurine
Biotin
Amino Acid Blend
L-Carnitine
We also offer medication to use when appropriate:
Benadryl (diphenhydramine)
Pepcid (famotidine)
Reglan (metoclopramide)
Toradol (ketorolac) - $35
Zofran (ondansetron)
There are also a few other add-ins you can opt for. An increasingly popular compound called NAD+ ($1 mg) can be added for improved brain function and memory. We also can provide you with additional saline for $50 when appropriately decided needed and safe with the provider.
How to Book a Mobile IV in Arrowhead Ranch?
Our goal at Mobile IV Nurses is to make the IV therapy experience as quick and easy as possible. Not only do we provide sessions that last less than an hour, but we also offer several options for booking an appointment. You can schedule an appointment on our easy online scheduler or give us a quick phone call to set up your session. In some markets, we can even offer after-hours appointments for our clients in need (additional fees may be included).
Feel free to also call us with any questions you might have about the safety, effectiveness, or options that come with mobile IV therapy. We can't wait to get started with your Arrowhead Ranch IV therapy!
IV Therapy In Peoria, AZ Frequently Asked Questions
IV therapy in Peoria, AZ is definitely worth giving a try. Arizona has a hot climate, which means many of our residents have a greater risk of dehydration. Mobile IV Nurses not only rehydrates you quickly, but we also give you plenty of essential vitamins and minerals that can help you achieve optimal health.
2
What are the reasons to use IV therapy?
There are many reasons to use IV therapy in Peoria, AZ to help improve your health. Here are just a few of our favorites: 1. It works! The vitamins, minerals, fluids, and electrolytes you get from a vitamin infusion can make a huge difference in your overall health. 2. It's top-quality. Mobile IV Nurses creates all our IV treatments from high-quality, medical-grade ingredients, so you can fuel your body with the very best. 3. It's convenient. Our team offers mobile IV therapy in Peoria, which means you can get that high-quality treatment without even leaving home. 4. It's safe. Mobile IV Nurses is made up of experienced registered nurses and paramedics who have plenty of skill with IVs. We will ensure that you are safe and comfortable throughout the entire process. 5. It's fast! A typical infusion takes just 30-45 minutes, and many of our patients start to notice a difference right away. This means you can have relief from your worst symptoms much sooner than with oral supplements for medications.
3
How long does it take for IV therapy to kick in?
Most patients who try our Peoria IV therapy experience symptom relief within 30 minutes of receiving their IV. However, it's important to remember that your results may vary depending on your current health condition and your specific needs. For example, someone who is dehydrated might notice a difference more quickly than someone who is not.
4
How long does IV therapy last?
IV therapy replenishes your body with enough vitamins and minerals to optimize your health, and those benefits tend to last long after your treatment ends. Precisely how long varies based on your current health, your activity level, your diet, and many other factors. Most of our patients who get regular infusions as part of their wellness routine get them every two weeks.