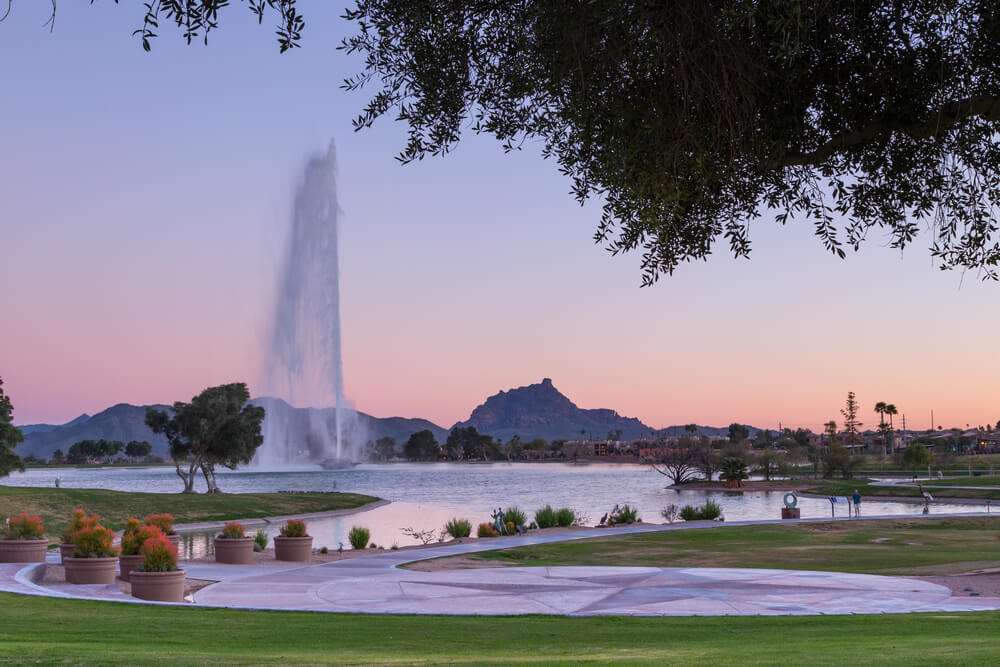 Here in Fountain Hills, we love to be outside. Between the gorgeous views, Arizona's warm weather and plenty of outdoor recreation, you can enjoy fresh air and sunshine nearly all year long!
But if you're going to be out in the AZ heat, it's very important to stay hydrated. And if you want to get fast hydration and an extra dose of vitamins, you've got to call Mobile IV Nurses. 
Our team offers mobile IV therapy in Fountain Hills that can keep you hydrated AND support your overall health. With our IV treatments, you can get the stuff your body needs to enjoy all the outdoor activities our city has to offer.
The Best IV Service in Fountain Hills
Mobile IV Nurses is one of the most trusted providers of IV therapy in Fountain Hills, AZ and the other areas we serve. This is because we care about our customers first and foremost—which is why we are dedicated to bringing you top-quality products and superior service.
All of our infusions are made from high-quality vitamins, supplements or medications. We give your body the very best, so you can be the healthiest and most energetic version of yourself.
And best of all, you can enjoy the benefits of IV therapy without even leaving your home. When you order IV treatments in Fountain Hills from us, we will send a team of health care providers to your house, office or hotel. Our team will administer your IV and monitor you throughout the process to ensure you're safe, comfortable and feeling great.
What Can a Mobile IV Be Used For?
Some of our patients use IV therapy in Fountain Hills to stay hydrated and healthy with optimal levels of vitamins and minerals in their systems. However, IV therapy is also a great way to manage symptoms from a variety of health conditions.
Do you suffer from migraines? An IV treatment could help reduce your symptoms. Partied too hard over the weekend and need quick relief from a hangover? Our infusions can help you get back on your feet. Feel a cold or flu coming on? IV therapy can support your immune system to help you fight off the sniffles. 
No matter what has you feeling down, Mobile IV Nurses' IV therapy in Fountain Hills can help you feel better fast.
Defend Against Hangovers With IV Therapy
Hangovers are the worst, often ruining the fun we had the night before. With Mobile IV Nurses, we can get you back on your feet for another night out on the town.
Our most highly recommended IV for hangover relief is our Myers' Cocktail. This IV contains essential nutrients — such as vitamins, minerals and electrolytes — to give you energy and reduce the painful symptoms that hangovers are notorious for.
Relieve Food Poisoning Nausea With IV Therapy
Food poisoning is rough, especially when you don't know where it came from. Whether you are feeling nauseous or are actively sick and vomiting, a Mobile IV Nurses team member can be there to help.
Our Resurrection IV does exactly what you would expect it to, reviving and restoring you to optimal health. This package contains vitamins B12 and C, glutathione, magnesium, zinc and several medications to work fast.
Rehydrate Quickly With IV Therapy
That Arizona heat can wear you out quickly. Mobile IV Nurses can resupply your body with needed hydration with our Purely Saline Package. This simple IV packs a powerful hydration punch with only sodium chloride and sterile water as a dehydration solution. Enhance your IV hydration with our available add-ons, including vitamins, minerals and medications.
Overcome Morning Sickness With IV Therapy
Many mothers-to-be experience morning sickness, even if it's not in the morning. This feeling of intense nausea can hit any time, whether you smell or taste something unappetizing or it comes on randomly. Luckily, Mobile IV Nurses can also be there any time with an IV package to reduce your symptoms and increase your pregnancy glow.
Our best-selling Myers' Cocktail also works for morning sickness symptoms because its ingredients are safe for pregnancies. We can even add any extra nutrients you need to maintain your strength — after all, you supplement enough nutrients for two!
Reduce the Duration and Frequency of Migraines and Headaches With IV Therapy
Instead of spending your day lying in a dark room, reach out to Mobile IV Nurses for migraine and headache relief. The Myers' Cocktail contains needed ingredients to help reduce the duration and frequency of your migraines — a session of this treatment can go a long way. Supply your body with saline, vitamin B complex, B12 and C, glutathione, magnesium and zinc. We also carry the Ultimate Myers' Cocktail for higher vitamin C and glutathione concentrations to fight fatigue and help you face your day.
Mobile IV Packages and Extras
Mobile IV Nurses offers several different packages for our IV therapy. There are various combinations of vitamins, minerals and medications included in the IV.
Want to build your own IV treatment? You can add ingredients to any package or to pure saline. This customizable option allows you to create the perfect infusion for your body.
No matter what IV package you choose, you can be confident that you're getting top-quality ingredients that can help you elevate your health to feel your best.
How to Book a Mobile IV in Fountain Hills
Contact Mobile IV Nurses today to schedule an appointment for mobile IV vitamin therapy in Fountain Hills. Our teams are local and ready to help you get a dose of almost instant rehydration!