The Best IV Service in Peoria
So, what makes our IV therapy in Peoria the best? The combination of impeccable customer service and a high-quality product is what sets Mobile IV Nurses apart from the rest. We only hire well-trained and highly experienced nurses and certified paramedics to do IV treatment. This means that your IV therapy session is in good hands. Our nurses and paramedics can answer any questions you have along the way, talking you through the ins and outs of IV treatment and what you can expect.
There's only one way to find out why we're the best IV service in Peoria. Book an IV treatment session today and find out how we can help with your health.
Have you been considering IV therapy? Mobile IV Nurses is your resource for all things IV therapy. Our team of medical professionals offer mobile IV therapy in Peoria for both long-term and short-term treatment. Whether you're looking to fight off some current symptoms or just want to do consistent treatment for your health, chances are that we have a solution for you.
Our IV therapy can help you with a number of illnesses, ailments, and symptoms, ranging from dehydration to colds and flu. Our services include a variety of different IV packages to choose from, all of which can be delivered to the safety and convenience of your own home.
The high-quality IV service from Mobile IV Nurses brings residents of Peoria, AZ, a safe and effective treatment they can enjoy at home. Our professional nurses and paramedics can administer your IV treatment quickly and discreetly, allowing you to get on with your busy day.


Come discover the benefits of IV therapy in Peoria, AZ and find out why we're the best IV home service around.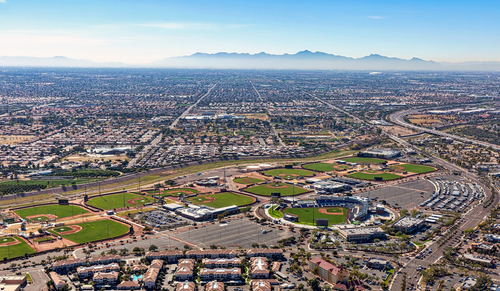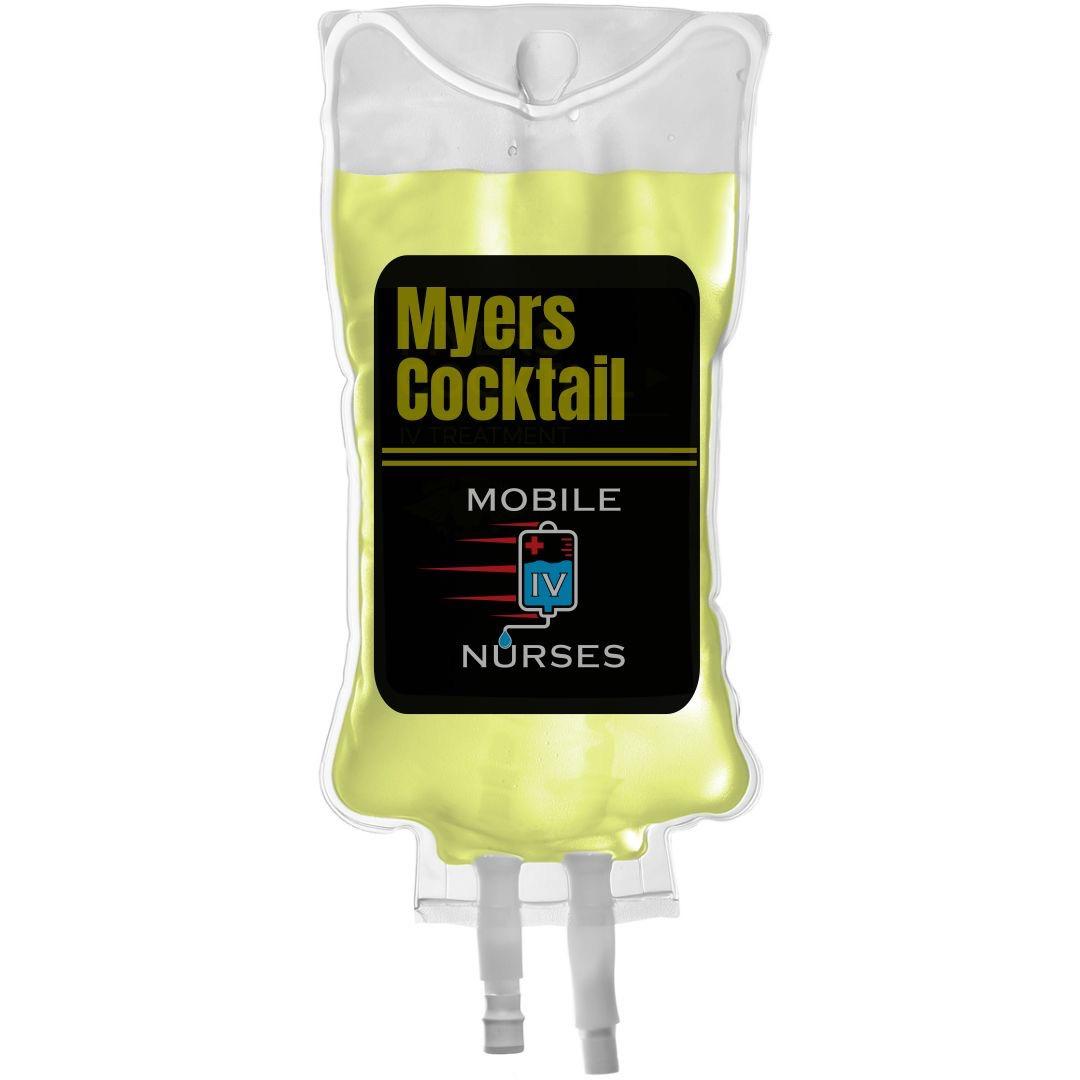 MYERS' COCKTAIL - $ 195
Our Best Selling Hydration Package.
Features 6 of our highest-impact vitamins, minerals, antioxidants, and hydration, can help with skin health, and aid your weight loss regimen. Supports your Immune System and can give you a burst of energy to stop you from feeling sluggish. Recommended for everything from hangovers to fatigue, the flu, recovery from an athletic event, or a chronic illness.
What Is Mobile IV Nurses?
Mobile IV Nurses was started by a group of medical professionals, nurses and paramedics who saw the benefit of bringing high-quality IV service to people's homes. Our goal is to treat our client's symptoms with quick, effective IV therapy in the Peoria, AZ, area, which takes just 45 to 60 minutes to complete.
What Can a Mobile IV Be Used For?
IV therapy in Peroria can be used for a number of diverse purposes. Need help recovering after a game at Peoria sports complex? We have great IV treatments for athletes, getting them the fast hydration and electrolyte replenishment they need to function to perform their best. Or maybe you're feeling a little dehydrated from doing your landscaping outside in the Arizona heat. Whatever it is, Mobile IV Nurses has a solution for you.
Mobile IV therapy can be used for many things. Some of our clients enjoy getting regular boosts of vitamins and minerals to support their general health. Other clients set up appointments when they're fighting a cold and flu, enjoying the quick benefits of an IV infusion to alleviate headaches, nausea, and aches and pains.
Even if you're not feeling any symptoms, an IV treatment can be beneficial. Many customers find that consistent IV therapy helps to support their long-term health. By keeping yourself hydrated and sustaining healthy levels of vitamins and minerals in your body, you'll have a lower chance of getting sick in the future.
IV therapy at Mobile IV Nurses is all about options. We have different IV packages for various needs, allowing you to customize ingredients as you see fit. A popular IV infusion in Peoria is the Myers' Cocktail, which has helped countless patients with migraines, cold symptoms, and general fatigue. If you're suffering from a hangover or a number of other symptoms, we believe our IV therapy can help.
How Much Does a Mobile IV Cost in Peoria?
The price for a Mobile IV in Peoria is $100 to $395, which includes all travel fees. The final cost changes depending on what type of IV package you choose, as well as what add-in ingredients you choose to include. A basic $100 Purely Saline package offers simply hydration, while a deluxe IV with several vitamins and minerals will cost a little more.

If you choose to upgrade your IV package, our add-in ingredients (supplements and medications) are just $25 each:


Supplements:
B Complex
Vitamin B12 (methylcobalamin)
Glutathione
Magnesium
Zinc
Vitamin C
Taurine
Biotin
Amino Acid Blend
L-Carnitine
Medications:
Benadryl (diphenhydramine)
Pepcid (famotidine)
Reglan (metoclopramide)
Toradol (ketorolac) $35
Zofran (ondansetron)
You can also add in NAD+ ($1/ mg) for improved focus, mental clarity, and memory function, as well as additional saline for $50.
How to Book a Mobile IV in Peoria?
Getting started with mobile IV therapy is easy. You can easily schedule an appointment on our website or on the phone. Give us a call at your convenience to begin your Peoria IV therapy.
Mobile IV Nurses is open from the hours of 8 a.m. to 8 p.m. We can even arrange for after-hours appointments in some markets, depending on nurse availability.
Let us help you upgrade your health!
IV Therapy In Peoria, AZ Frequently Asked Questions
IV therapy in Peoria, AZ is definitely worth giving a try. Arizona has a hot climate, which means many of our residents have a greater risk of dehydration. Mobile IV Nurses not only rehydrates you quickly, but we also give you plenty of essential vitamins and minerals that can help you achieve optimal health.
2
What are the reasons to use IV therapy?
There are many reasons to use IV therapy in Peoria, AZ to help improve your health. Here are just a few of our favorites: 1. It works! The vitamins, minerals, fluids, and electrolytes you get from a vitamin infusion can make a huge difference in your overall health. 2. It's top-quality. Mobile IV Nurses creates all our IV treatments from high-quality, medical-grade ingredients, so you can fuel your body with the very best. 3. It's convenient. Our team offers mobile IV therapy in Peoria, which means you can get that high-quality treatment without even leaving home. 4. It's safe. Mobile IV Nurses is made up of experienced registered nurses and paramedics who have plenty of skill with IVs. We will ensure that you are safe and comfortable throughout the entire process. 5. It's fast! A typical infusion takes just 30-45 minutes, and many of our patients start to notice a difference right away. This means you can have relief from your worst symptoms much sooner than with oral supplements for medications.
3
How long does it take for IV therapy to kick in?
Most patients who try our Peoria IV therapy experience symptom relief within 30 minutes of receiving their IV. However, it's important to remember that your results may vary depending on your current health condition and your specific needs. For example, someone who is dehydrated might notice a difference more quickly than someone who is not.
4
How long does IV therapy last?
IV therapy replenishes your body with enough vitamins and minerals to optimize your health, and those benefits tend to last long after your treatment ends. Precisely how long varies based on your current health, your activity level, your diet, and many other factors. Most of our patients who get regular infusions as part of their wellness routine get them every two weeks.