There is so much to do and see in Camino A Lago. The nearby community offers amazing parks, theaters, and tons of festivals. You can spend all day shopping at the P83 Entertainment District, hiking around White Peak, or boating on Lake Pleasant. Just make sure you have the energy for all the activities you want to do. If you've been feeling fatigued or run-down lately, IV therapy in Camino A Lago can help.
IV therapy in Camino A Lago, AZ, is safe and effective. IV infusions provide you with powerful, health-supporting vitamins directly into your bloodstream for optimal absorption. It's one of the best ways to rehydrate, re-energize, and recover from any adventure in Camino A Lago, AZ.
The Best IV Service in Camino A Lago, AZ
Interested in trying mobile IV therapy in Camino A Lago? Don't just go with any IV provider. Choose a company with a proven track record of amazing service and lots of experience. Mobile IV Nurses only hires registered nurses and certified paramedics to perform IV therapy in Camino A Lago. We're also backed by many five-star reviews from our happy customers.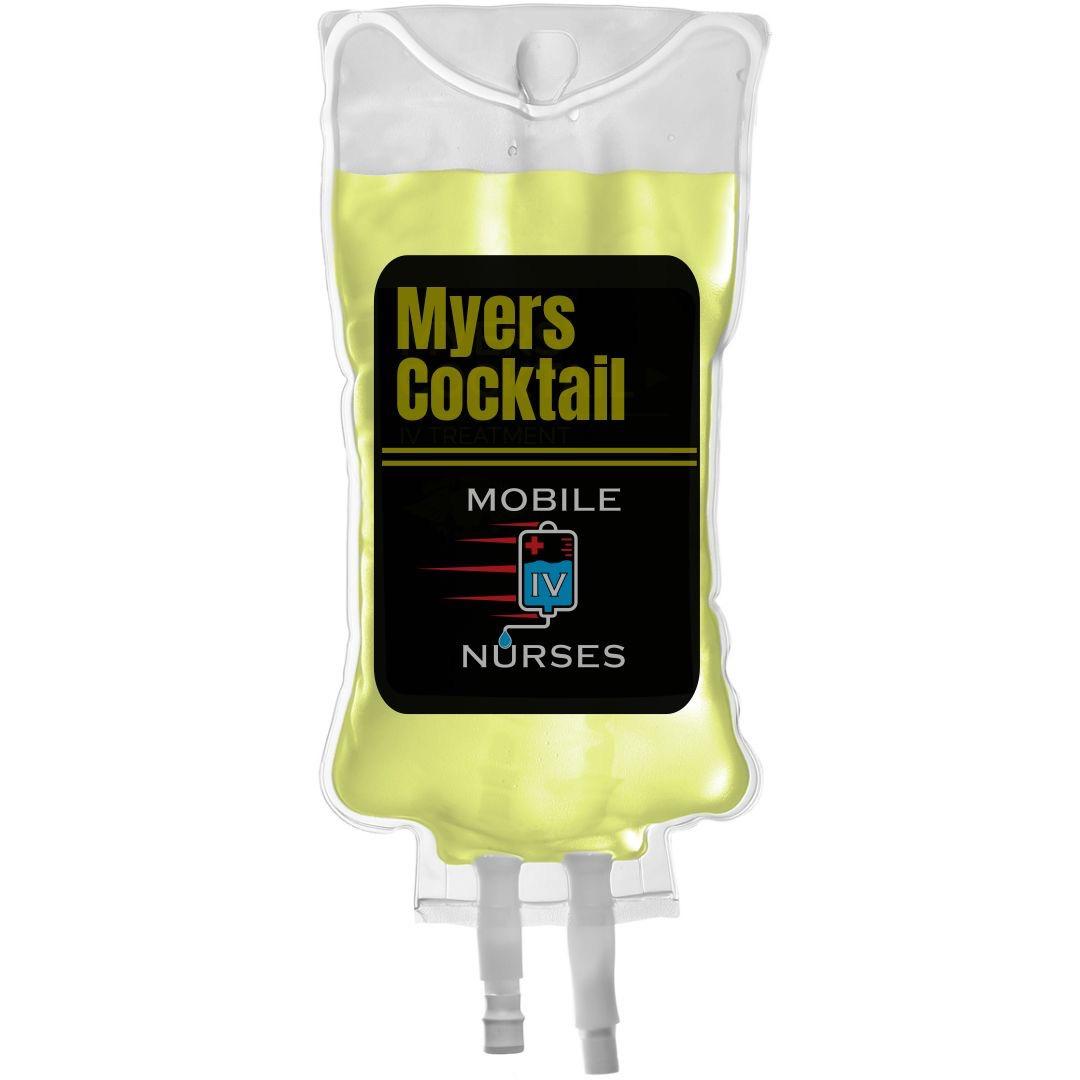 MYERS' COCKTAIL - $ 195
Our Best Selling Hydration Package in Camino A Lago.
Features 6 of our highest-impact vitamins, minerals, antioxidants, and hydration, can help with skin health, and aid your weight loss regimen. Supports your Immune System and can give you a burst of energy to stop you from feeling sluggish. Recommended for everything from hangovers to fatigue, the flu, recovery from an athletic event, or a chronic illness.
What Are the Benefits of IV Therapy in Camino A Lago?
How can IV treatments in Camino A Lago help you live your best life? It starts with rehydrating saline and electrolytes that come in every IV cocktail. Rehydration alone can make you feel better almost instantly, especially if you've recently been sick, have been partying a little too hard in nearby Phoenix, or have spent a lot of time hiking or biking in Arizona's hot and dry weather.
Next, our cocktails include top-of-the-line vitamins and minerals, like vitamin B12, vitamin C, zinc, magnesium, glutathione, and more (depending on which cocktail you request). These vitamins can address any deficiencies you have, replace vitamins lost after an illness, or simply support your overall immune health. Finally, many of our IV cocktails also include medications, like Benadryl, Zofran, and Pepcid that can help address allergies, nausea, upset stomach, and more. 
Best of all, you can choose from many different IV infusions in Camino A Lago, so you can enjoy the right cocktail for your symptoms and health goals. 
Some of the most common issues our IVs can help manage are:
Fastest Mobile IV Therapy
Whether you're suffering from a bad hangover, food poisoning, or other health challenges, you want relief fast! You also don't want to have to get into a car and drive to a medical office. At Mobile IV Nurses, we come to your home, office, or hotel room. In many cases, a nurse or paramedic can be at your door within an hour of your appointment request.
We know you need relief, so we won't make you wait for IV therapy in Camino A Lago, AZ. 
How Much Does a Mobile IV Cost in Camino A Lago, AZ?
You want to feel your best, but that doesn't mean you should have to empty out your bank account. We are dedicated to providing our customers with the highest quality IV infusions in Camino A Lago at an affordable cost.
If you're on a budget, try our Bronze Package for just $125. This is a great starter option and contains B vitamins and saline. If you want more health support, you can upgrade to our Silver Package or Gold Package at $150 and $175, respectively. One of our most popular IVs is our Myers' Cocktail, which gives you a great balance of vitamins and minerals for $195. 
At the end of the day, the cost of your IV will depend on what benefits you wish to receive. We offer different packages, many formulated for specific health results. You can also customize your IV. We allow customers to add ingredients to create specialized IVs. Many add-ins start at just $25 each.
Not sure which IV is right for you? The IV technician who arrives at your location can provide recommendations based on your budget, symptoms, and goals. 
Book Your Appointment Today
It's so easy to request mobile IV therapy in Camino A Lago. Simply click the green "Schedule Now" button at the top of our website. We'll send one of our experienced IV technicians out to your location right away. You can also choose to schedule your IV therapy in advance. This is a good idea if you're planning on a long hike in Peoria, have upcoming travel plans, or know you'll be partying hard at an upcoming concert or festival. Book an appointment.
We are proud to serve Camino A Lago and the surrounding areas. If you live outside the development, take a look at all the areas we serve.
IV Therapy In Reed Park, AZ Frequently Asked Questions
1
How is IV therapy different from taking oral vitamins?
Oral vitamins must go through your digestive tract, which can only absorb a portion of the vitamins. IV therapy, on the other hand, is delivered directly into your bloodstream. You'll enjoy a much higher level of absorption and quicker uptake.
2
Is IV therapy helpful for hangovers?
Absolutely! Researchers are still trying to understand exactly what causes hangovers, but one component may be dehydration. IV therapy is a great way to quickly and effectively rehydrate. Each cocktail includes saline and electrolytes to help give you balanced fluids. Hydration can also help you feel more awake and focused. If you're feeling extra sick, consider choosing an IV that includes Zofran, which can help with symptoms of nausea.
3
How long does IV therapy take?
Once the IV is in, the actual therapy typically takes approximately 45 minutes. Keep in mind, however, that the entire appointment will take longer. Your technician will perform a short health history and medical exam to make sure you are a good candidate for IV therapy. They will also walk you through the process and answer any questions you have. The technician will need time to set up all the equipment and take it down after the IV is complete. We like to tell our customers to expect the full appointment to take between 45 and 60 minutes.