Many people have experienced the benefits of IV therapy.
Have you ever had IV therapy and felt better afterward? Many people have had great experiences with IV treatment, getting relief after surgery or from their symptoms when spending time in the hospital or visiting a clinic. Until recently, that type of quality IV treatment wasn't available outside of medical clinics and doctor's offices.
Now, that same beneficial IV therapy can be delivered straight to a patient's location. Whether you are at home, at the office, or even in the gym or a hotel room, mobile IV therapy in AZ can come straight to you. Once you experience this sort of convenient treatment, you won't want to have to drive to the clinic ever again.
Mobile IV Nurses has brought high-quality IV therapy to locations around Arizona and Florida to our customers. We have offered many customers quick relief from adverse symptoms and consistent treatment with doses of vitamins, minerals, and micronutrients. We have a wide selection of ingredients such as vitamin C, B complex, magnesium, taurine and more, that you can add to any IV cocktail.
From cold and flu symptoms such as nausea to mood issues such as anxiety and depression, IV treatment can be used for a number of reasons. At its core, it rehydrates your cells and provides energy and nourishment for the body.
If you're searching for mobile IV therapy in Tolleson, give Mobile IV Nurses a try. We offer a variety of quality IV packages, which feature different combinations of nutrients. This variety, coupled with a committed and experienced staff, is what sets us apart as the best IV treatment professionals in Arizona.
The Best IV Service in Tolleson
Mobile IV Nurses has put together a team of IV registered nurses and certified paramedics who have committed themselves to providing the best IV therapy in Tolleson, Arizona, and beyond. This starts with our tenets of safety and quality, which we follow during each of our quick, effective IV treatment sessions.
It only takes 45 to 60 minutes to administer IV therapy in Tolleson, AZ, to our customers. In our reviews, clients have celebrated our ability to provide effective IV therapy that doesn't take a lot of time out of their day. They've also enjoyed the variety of IV treatments that we offer, customizing each session to meet the needs of each customer.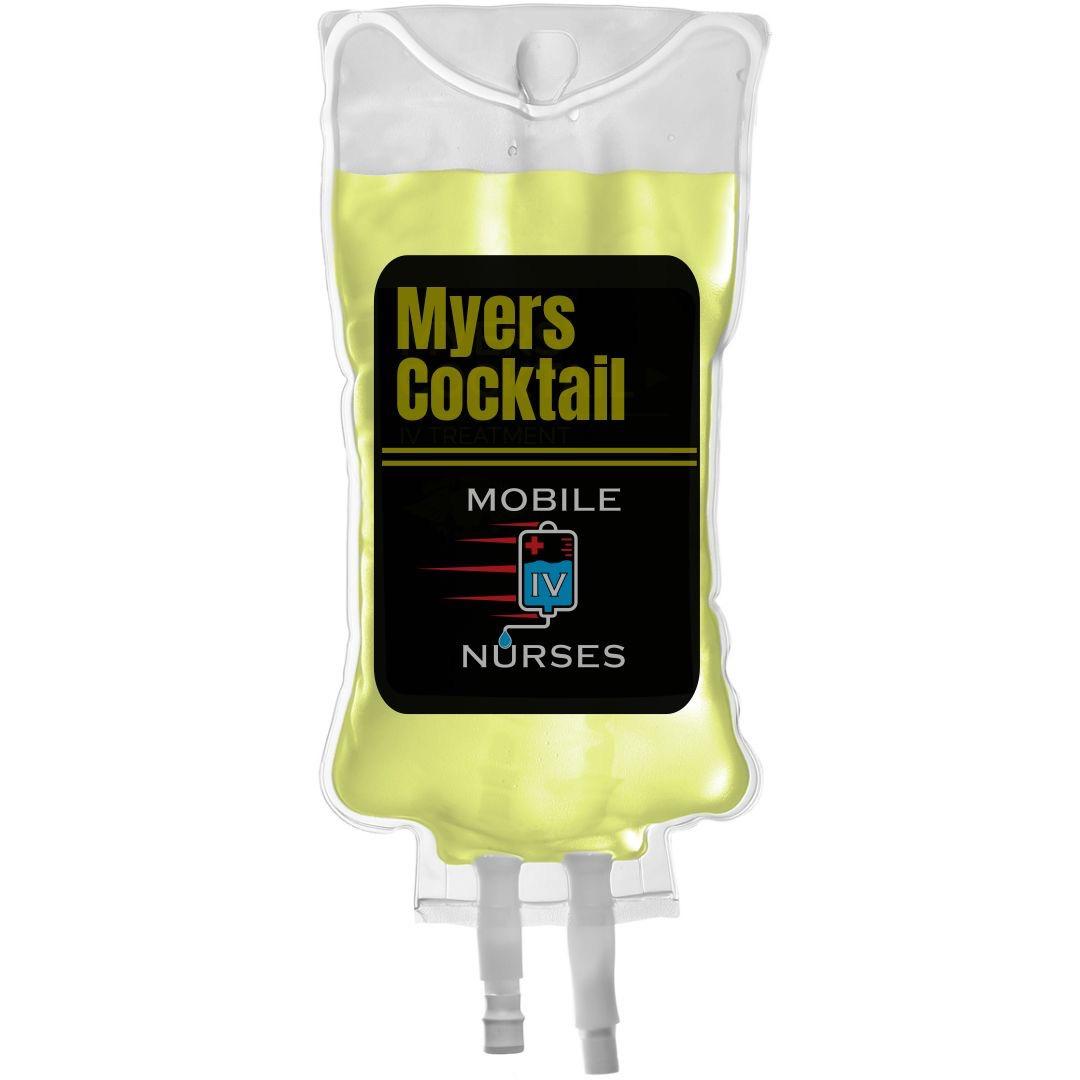 MYERS' COCKTAIL - $ 195
Our Best Selling Hydration Package in Tolleson.
Features 6 of our highest-impact vitamins, minerals, antioxidants, and hydration, can help with skin health, and aid your weight loss regimen. Supports your Immune System and can give you a burst of energy to stop you from feeling sluggish. Recommended for everything from hangovers to fatigue, the flu, recovery from an athletic event, or a chronic illness.
What Is Mobile IV Nurses?
Mobile IV Nurses was started with the mission of bringing medical-quality IV care straight to our customers. We are available for appointments from the hours of 8 a.m. to 8 p.m., delivering IVs straight to our customer's locations. We can administer quality, customizable IV treatment in the comfort of your own home, hotel room, or office.
Purposes of Intravenous (IV) Therapy
If you've come down with a number of adverse symptoms, IV therapy can be an effective way to find relief. We have a number of customers who receive IV therapy at home, relaxing while they fight off a cold or flu. Whether it's a headache, a sore throat, or just a little bit of anxiety, many of our clients have found quick relief with IV treatment.
We also provide many customers with regular doses of vitamins and minerals, boosting their levels of vitamins such as zinc, magnesium, C, B12 and more. From controlling levels of hormones in the body to maintaining good day-to-day health, people have found that there is consistent benefit to IV therapy.
For various purposes, there are several options for an IV infusion in Tolleson, AZ. One popular IV package is the Myers' Cocktail, which is known for its restorative properties. You could also start with a basic saline solution such as Purely Saline. This allows you to fully customize the minerals and vitamins you'd like to include in your personalized cocktail at just $25 per add-in.
Fastest Mobile IV Therapy
At Mobile IV Nurses, we pride ourselves on being one of the fastest and most effective IV therapy options around Florida and Arizona. It takes no longer than an hour to administer IV therapy to our customers, allowing them to spend more time getting work done or hanging out with friends and families. Home IV therapy even allows you to hang out with loved ones or get work done during therapy sessions.
How Much Does a Mobile IV Cost in Tolleson?
We have a number of price options available for our customers. IV package prices range from $100 to $395. The intro package, called Purely Saline, offers you a simple saline solution that promotes energy and rehydration. This fully customizable package allows you to add any nutrient you want starting at cost of $25.
Each IV cocktail can be bolstered with these add-ins::
Vitamins:
B Complex
Vitamin B12 (methylcobalamin)
Glutathione
Magnesium
Zinc
Vitamin C
Taurine
Biotin
Amino Acid Blend
L-Carnitine
Vitamin D
NAD+
Medications:
Benadryl (diphenhydramine)
Pepcid (famotidine)
Reglan (metoclopramide)
Toradol (ketorolac)
Zofran (ondansetron)
You can add the popular compound NAD+ for starting at $1/mg, which assists brain function and memory. There is also additional saline available for $50, if appropriate.
How to Book a Mobile IV in Tolleson?
To get started, use our simple online scheduler to set up an appointment time that works with your schedule. You can also give us a call to let us know when you'd like us to deliver your IV treatment. If you have any questions along the way, feel free to ask us about any part of the process.
Tolleson, AZ IV therapy from Mobile IV Nurses is available from the hours of 8 a.m. to 8 p.m., and even for after-hours appointments in locations with nurse availability at those times. We can't wait to hear from you!
IV Therapy In Reed Park, AZ Frequently Asked Questions
1
How long does an IV therapy appointment take?
IV therapy only takes about 45 to 60 minutes for a treatment session. Our nurses and paramedics come to you at home, your office, or another location that's convenient for you.
Yes, IV therapy is very safe. IV cocktails are safe for internal use, we use only the best equipment, and all of our team members are experts in this type of treatment.
3
How effective is IV therapy?
IV therapy can be very effective for fighting off symptoms from the cold and flu, dehydration, altitude sickness, jet lag, and much more. For treating dehydration, it's more effective than other forms of treatment, such as ingesting pills, which must be absorbed through the stomach first. IV therapy goes directly to your veins and into your bloodstream, so it can take effect faster.